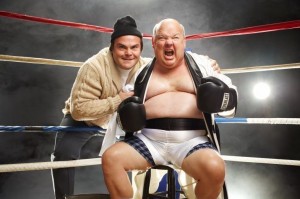 Photo by Michael Elins
Why You Should Go: Self described as "the greatest band in the world," Tenacious D has been melting faces and exploding brains around the world for almost 20 years. From humble beginnings in clubs around L.A., and a short-lived show on HBO, The D has ascended to the top of the proverbial pyramid of comedic rock music on the shoulders of Jack Black's "pipes of platinum," and Kyle Gass's "riffs of pure profundity."
The bands first studio album in over six years, Rize of the Fenix was released May 15th via Columbia Records. Tenacious D describes the making of the album as "journey similar to that of Gandolph  in The Lord of the Rings." Produced by the brilliant John Kimbrough, Rize Of The Fenix was recorded in the garage behind his LA home and features Jack Black and Kyle Gass (Tenacious D's core duo), performing with Dave Grohl (drums), John Spiker (bass, piano, organ)and John Konesky (electric guitar). The album was engineered and mixed by John Spiker who has been touring with the band for years.
The group's 16 date summer tour in support of the new album stops at Red Rocks on Thursday, where Black and Gass will be joined on stage by John Spiker on bass, who also mixed and engineered the album, John Konesky, who Black says "is also known as the Antichrist," on electric guitar, and Brooks Wackerman on drums. It's a band that is sure to bring the thunder and deliver everything that fans expect from Tenacious D.
Venue:
Red Rocks Amphitheatre, 18300 West Alameda Parkway, Morrison, CO 80465 – (720) 865-2494
Doors:
6:30 PM
*Price:
GA $39.95, RES $45.00
PURCHASE TICKETS
*All times and prices are gathered from other sources and we are not responsible for mistakes or inconsistencies. They are intended only as guidelines. Please, always call the venue if you desire the most accurate information possible.