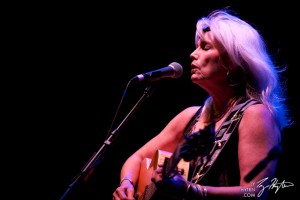 Photos by Ty Hyten
The Scene: I made it to Red Rocks roughly around 7 o'clock last Wednesday to be met by a surprisingly long line of traffic. My car was directed to a parking lot atop a hill I had not even previously known existed. As I began my long journey to the stairs leading into the venue, I took note of the party happening around me. By "party" I mean there were maybe 6 or 7 cars with trunks popped spread throughout the two parking lots I had to traverse and folks who could easily be my parents were sipping on wine coolers and craft beers. One group of folks with a cooler I could only assume contained apple slices and cheese were carrying their comfortable seat cushions up the hill. I read on a sign at the bottom of the stairs that tonight's concert featuring Arlo Guthrie, Steve Martin, and Emmylou Harris was general admission only from rows 52 and up. This struck me as odd as I have never been to a show at Red Rocks with so many assigned seats. The sound of Guthrie's voice rang out over the rocks as I finally made my way to the top. By this point in the evening it felt as if I was the only ticket holder among the sold out crowd who didn't show up an hour early. That is to say that the entire amphitheater was already packed to the brim.
Arlo Guthrie: After a short walk around the entire venue so as to not disrupt any of the peaceful concert goers I arrived at my seat in the 13th row. I did however stop for a glass of Pinot Grigio with the hopes that I would somehow be sitting next to someone with a cooler full of cheese and crackers. Arlo was already underway, alone on the stage. Accompanied only by a grand piano and two guitars, one being six and the other twelve stringed.
The couple sitting next to me explained how they had been at Red Rocks 40 years ago to see Guthrie co-headline with Pete Seeger. Although I may have missed that boat due to the year of my birth, the relevance of Guthrie's music has not been lost with time. His set was shorter than I may have wished it to be, but didn't lack the emotion I heard he was capable of. He paid homage to his late father by playing a few of his songs including the ode to the outlaw known as "Pretty Boy Floyd."
Between songs Guthrie stayed true to the roots of Americana music. Often times we forget that the pioneers, and composers in the library of folk music, were more than just pickers with heavy hearts. They were story tellers responsible for handing down tales through the generations and on the stage of Red Rocks, this is exactly what Guthrie did as he even stopped in the middle of a song or two in order to explain where the song came from or describe the world around him at the time of writing it.
He told stories of his wife getting arrested in an airport. He spoke of time he spent in Hawaii and all the local musicians he worked with while working on The Byrds of Paradise. Then sang "Waimanalo Blues," which brought me back to the time I spent in Hawaii on an empty beach listening to strangers strum chords.  He moved between the two guitars for a few songs then took over the massive piano for his rendition of Steve Goodman's "City of New Orleans," which elicited a magnificent crowd reaction.
The set came to an end with one more of Woody Guthrie's songs: "This Land is Your Land." You could hear nearly 10 thousand voices sing along to the song that was written over 70 years ago. The words still ring true today and the song remains more relevant than perhaps Woody even had intended. In a time when there are so many things to protest, an awful lot more to be upset about, it takes a song like this to help us remember that we are all just humans trying to get by and this land was most certainly made "for you and me."
Steve Martin: The day I learned Steve Martin played the banjo was also the day that I realized there is a lot more to the people we see on screens than meets the eye. After watching him play on whatever late night TV show it was, I was more inspired than ever to pluck my own banjo. His band, The Steep Canyon Rangers, have been respected in the traditional bluegrass scene for quite some time and Steve joined the band in 2009 after meeting the Rangers at a party. To some it may seem like a novelty act, but once you see the way he plays the banjo, you will think it is a novelty no more.
Martin, as well as the rest of the Rangers, are showmen in every sense of the word. Cracking jokes between songs they had everyone in my section rolling with laughter. Between the jokes were pieces of brilliant Bluegrass music. Each member of the band proved to be more than just a simple side man. Their individual understanding of the instruments they played was showcased in songs such as "Rare Bird Alert." They played both original numbers and paid tribute to the late Banjo godfather Earl Scruggs.
As I looked back at the crowd I did find it strange that hardly anyone was up and dancing around. It was easily the first time I have ever been to Red Rocks and seen a sold-out crowd all sitting silently, simply listening to the music. I couldn't quite help myself and had to bust a short jig while the band played "Jubilation Day." A song about celebrating the extradition of rotten people from your life. At this point Martin asked for a beer. Charles Humphrey then turned his bass around, removed a panel of wood and retrieved a beer from the inside of it. Steve exited the stage, leaving the Rangers to serenade us.
If you thought they could only pluck and strum, you would have been horribly mistaken. They went into "I Can't Sit Down" and harmonized beautifully for this a capela number that I could imagine hearing outside a church somewhere in the deep south. As it came to an end Martin returned to the stage and introduced a song he described as the entire Atheist Gospel: "Atheists Don't Have No Songs."
By this time the sun had fully set and the night was just cool enough after another sweltering Colorado day. Steve took over for a solo number and displayed his ability with the claw hammer style of banjo picking. Slowly each member returned to the stage to finish the song. Martin then mentioned a theme in Bluegrass often known as "The Murder Ballad." Following his explanation the band played what ended up being my favorite song of the night: "Pretty Little One."  Not only did it touch on death but it allowed Martin to try his hand at singing.
The Steep Canyon Rangers fronted by Steve Martin easily put on one of the best performances I have seen in recent memory. It's obvious that the man knows how to work a crowd. When it was all said and done I was happy to say I had just seen, at least in my opinion, one of the better Banjo players touring today. Not only that, but I had the great privilege of sitting directly behind one of the best, if not the best air Banjo player I had ever seen. They ended it with one of the wildest fiddle solo's I've ever heard and when I say wild, I mean it had me and everyone in my vicinity drop jawed and on the edge of our seats. Even if you didn't show up to see the Rangers, that fiddle solo alone would have made the night worth your ticket price. A standing ovation followed and the stage was then set up for the final act of the night as everyone who had been holding it for an hour made their way to the restrooms and perhaps one final stop at the beverage cart.
Emmy Lou Harris:  For many the wine had worn off and the cheese had run dry. Frankly, I was amazed so many people had stuck around to this point in the night. Not because of the music, but because it had to be past a good majority of the crowd's bedtime. I think it was safe to say that a good portion of the crowd had been following the careers of these performers for the better part of the last 40 years.
After not too long the Grand Dutchess of Country music took the stage with her band and went right into "Six White Cadillacs." Unfortunately there was a slight malfunction and her guitar was not quite being amplified. The song ended and the problem was quickly fixed while the crowd erupted with applause for one of the biggest names to ever come out of Nashville. Although Nashville is known for pumping out big names, Emmylou has remained one of the biggest. With a voice like an angel and a songwriter ability that is matched by few, she has been a main force on the Country music scene for longer than I have been alive.
The wind began to pick up after she paid tribute to Townes Van Zandt with his "Pancho and Lefty." In the past a windy night at Red Rocks has been known to take away from the magic of the music being that it makes it harder for the sound to reach the top. Last week was different. As everyone sat in complete silence the small gusts of wind added some strange ambiance to the music. Almost as if she had planned for the songs to be played in such a situation. If you were to close your eyes and listen you would never be able to tell that her voice is nearly 65 years old. The couple next to me had been following her for the majority of her career, and even they were impressed with the beauty of her voice as she sang songs both old and new.
About halfway through her set I noticed the night taking its toll on people. Little by little the crowd thinned out. In the distance you could see the headlights leaving the parking lot. Those who stuck around were lucky enough to get one more fill of the previous entertainers. She brought out Steve Martin one more time for "Get Up John." Then came back for an encore with Arlo Guthrie, Martin, and the entire Steep Canyon Rangers for a rocking version of "Rough and Rocky."
I realized that fancy light rigs and all the smoke and mirrors aren't always necessary. The stage at Red Rocks looked much larger with only a few people and a few instruments standing on a large rug. The night consisted of pure, unadulterated music. Everyone from infants to octogenarians were represented on Wednesday night and each performer expressed the utmost gratitude for being back in Colorado at what is easily one of the most beautiful venues in the world. I left knowing that what I had just seen was something magical and something that most folks can only dream of. Although Steve Martin may not be in the ranks of musical legend like Guthrie and Harris, he holds his own place in history. Being able to see all three of them in one night is something I will not soon forget.
Energy: B
Sound: A
Stage Presence: A
Musicianship: A
Set/Light Show: N/A
Overall: A
I rode my skateboard from school in 7th grade to my buddy Vince's house where he put on the song "Perfect Government" by NOFX and I was hooked. The next day I bought the album Duh by Lagwagon. The next year I saw Against Me! at the Starlight Theater in Fort Collins, my mom dropped me off. I've since devoted every waking hour to anything done with passion. My speakerbox bumps everything from Lil' Wayne to Pablo Casals. I was never very good at making music, but I am damn good at listening to it. I've been filling up yellow notepads with random thoughts and misspelled words for as long as I can remember. I enjoy whiskey of all sorts, Newport cigarettes and the company of my family. I've got an addiction to run-on sentences that I'll probably never cure. A solid handshake with a stranger who has become a friend over a few beers means the world to me. You'll often find me wide eyed and wandering with an ear to ear grin. I live for funky break beats and spreading the love.