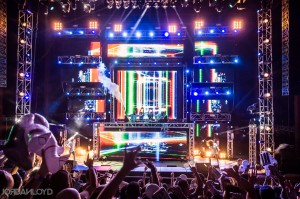 Photos by Margaux Galligan & Jordan Loyd
Global Dance Festival took over Red Rocks this past weekend and the spectacle that ensued was nothing short of mind bending.  Its hard to believe its been ten years since Triad Dragons took the reins and turned a small dance party formally known as "Rave on The Rocks" into a premier electronic festival.  With the explosion in the popularity of electronic music over the last five years the folks at Triad Dragons have enjoyed a meteoric rise to the forefront of the Dance universe.  This year was no different as the likes of Knife Party, Steve Angello, Above and Beyond, and Excision rocked three stages and provided the most bass heavy weekend Red Rocks will host this summer.
Driving into the south lot on Friday it was immediately apparent a party hungry crew had descended on the venue. Being that Global Dance Festival is an all ages event, an interesting mixture of young candy ravers, fist pumpers, and older chiseled veterans of the EDM scene joined in the frenzy. It was certainly one of the more interesting strolls through the Red Rocks parking lot that I've ever made.  Nothing but smiling faces and pulsating beats around every corner.  Its hard not to fall in love with the spirit and energy of an event like this, Although you may not be a dance or bass music fan, you simply can't deny the power, positivity, and community elements that a festival like this brings. Highlights abound from a crazy weekend of bass on the Rocks!
Global was set up this year to provide electronic fans with a taste of everything the genre has to offer. Friday was set up as the "House" night with the likes of Ecotek, Hardwell, Knife Party, Felix Cartal, and Steve Angello pumping out the beats.
After a somewhat disappointing set from former Pendulum front men, Gareth McGrillen and Rob Squire now known as Knife Party, I made an incredibly wise decision and walked to top of the venue to check out the second stage where Felix Cartal was dropping his pounding, yet catchy, take on House music.  I've always heard Felix put on a great show and I was not disappointed. Although the crowd was sparse, I couldn't have been more in love with the vibrancy of his set.  Mixing in tracks from his recent release Different Faces Felix certainly stole the show on night one. The positive vibes were in the air, the music was loud, and a soft breeze lifted away the heat of the day. It was truly a great way to end the evening.
Saturday featured the likes of Wolfgang Gartner, Morgan Page, and Above and Beyond plus an array of other local talent. I especially enjoyed the heroic Trance set that Above and Beyond provided. Not being much of a trance head myself, I had no idea what to expect but was blown by the cohesiveness and epic production quality of their set. Gogo dancers and a multitude of other circus creatures graced the stage throughout, providing us a glimpse into the world that Triad Dragons is trying to cultivate.  As the first notes of their hit song "Sun and Moon" begin drifting out of the speakers, I quickly recognized why AAB has amassed such a loyal following around the world.  Their music is hard hitting but still maintains a peaceful quality that is hard to replicate.
Sunday's bass heavy highlights included a killer performance from New York based Kill The Noise, madness from Crizzly and 12 Planet, and an absolutely epic set from Canadian producer Excision.  Although my body ached from three days of flinging myself around wildly, this Dub-Step heavy Sunday evening was the perfect way to end the tenth anniversary of Global Dance Festival.
There's no denying that Triad Dragons have stepped up their game in recent years. A whole array of dancers and other performers now accompany an epic laser show and light production that is hard to beat. It's obvious they belong alongside the biggest names in electronic music promotion and it's for good reason. On the other hand, I think Triad needs to reevaluate certain logistical issues. For example, Red Rocks just doesn't function well as a three-stage venue. I for one had no idea there was even a third stage the whole weekend. Apparently it occupied a small space next to the bathroom and far away from anyone remotely interested.  Perhaps Red Rocks isn't the right place for a festival of this type. Moving it to a larger, flatter, more open space would allow the festival to flourish and Triad's artistic vision to fully shine through.
Perhaps the greatest moment of the weekend came as the festival respectfully honored the victims of the recent Aurora tragedy. A moment of silence was observed each day, and though it was occasionally disrupted by a few disrespectful idiots it was otherwise extremely powerful and effective.
Its true, there can be no other festival like Global Dance, a wonderful gathering of like minded electronic fans seeking the love we all know the genre can bring.  I can only imagine the acts and production tricks that Triad Dragons will pull out next year as electronic music gains popularity and credence across the world.
Energy: A+
Sound: A+
Musicianship: B+
Stage Presence: B+
Set / Light show: A+
Overall: A
I've worked various positions in the music industry with Madison House, Rock The Earth and Bohemian Nights. My dream is to travel the world and seek out all the good tunes, beer and food that make life so special. I have a healthy obsession with live music and I'm thrilled to share the epic moments with you.