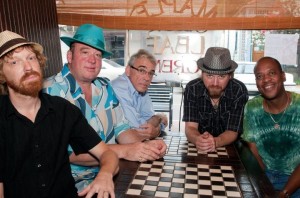 Why You Should Go: It's been said that the musicians of New Orleans are all members of one gigantic band that breaks up into smaller groups on a nightly basis. If this were really the case, The New Orleans Suspects would be in a class all their own. The group is comprised of musicians with experience and versatility that rival any other band that the city has ever produced.
"Mean" Willie Green has been the drummer for the Neville Brothers band since the 1980s.  Reggie Scanlan's career has been defined by his thirty-three years playing bass in the Radiators, the longest running rock act in the history of New Orleans. Jake Eckert is the sterling-toned lead guitarist in the Dirty Dozen Brass Band. CR Gruver is a classically trained pianist who was bitten by the bug known as New Orleans music after stints touring with nationally known bands such as Outformation and the Atlanta-based singer/songwriter Angie Aparo. Jeff Watkins is the latest addition to the New Orleans Suspects, lending his mastery of jazz, funk, and soul saxophone tempered through a career featuring spending 12 years as the leader of James Brown's band, playing as a core member of funk-rockers Groove Thangs, and a more recent tenure as producer, engineer, and performer with Joss Stone.
Together these five musicians create music that is firmly rooted in the modern New Orleans sound with compelling originals and tasteful covers. The rhythm section of Scanlan and Green are as comfortable together as red beans and rice. Gruver tickles the ivories or soars into the stratosphere on the organ. Watkins provides stellar saxophone fills and solos with great aplomb. Eckert's rhythm guitar work neatly complements his razor sharp solos. Though the band can clearly jam, with Eckert and Gruver trading off on lead vocals they are no simple jam band.
Venue:
Quixotes True Blue, 2151 Lawrence St, Denver, CO  – (303) 366-6492
Doors:
8:00 PM
*Price:
$20.00
PURCHASE TICKETS
*All times and prices are gathered from other sources and we are not responsible for mistakes or inconsistencies. They are intended only as guidelines. Please, always call the venue if you desire the most accurate information possible.