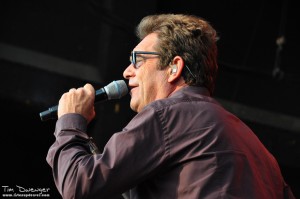 Photos by Tim Dwenger
The Scene: As I pulled into the Tech Center on my way to the Comfort Dental Amphitheatre I was struck by the fact that I have been to literally hundreds, and possibly thousands, of shows here in Colorado since I last stepped foot in the 18,000 seat shed on the Southern edge of town.  In fact, the last time I was there was to catch Widespread Panic shortly after their original guitarist, Mikey Houser, passed away back in 2002.  10 years ago, almost to the day.
To be honest, I haven't been there because I just really don't like the place.  It's not that it's a "bad" venue per say, it's just that the location couldn't be much more sterile.  Smashed into the middle of an office park, the place has an early curfew, beers are $12, and with the Majesty of Red Rocks just miles away, it just can't compete in my mind so I never get down there.  That is until I heard that Huey Lewis and The News would be playing with Joe Cocker!  Now, again, I'm not much of a Joe Cocker fan, and didn't even stay for more than a few songs of his set, but Huey . . . yes please!
The decidedly older suburban crowd that I found myself a part of was largely made up of Joe Cocker fans (as evidenced by the sea of hands that went up when Lewis asked from the stage how many people were seeing the band for the first time) but The News put on a great show and had most of them eating out of their hands by the time the sun was setting and they left the stage.
Huey Lewis & The News: When Huey Lewis took the stage with only a harmonica in hand, he introduced himself by saying "I'm Huey Lewis and this . . . is The News," and quickly proved that "The Heart of Rock and Roll" is indeed still beating as they tore into the band's 1984 hit.  With Lewis fronting a ten piece band that included a four piece horn section, guitar, keys, bass, drums and two back-up singers, the group touched on a pair of covers, "Some Kind of Wonderful" and "Respect Yourself," before diving full bore into their hits for the crowd that was slowing filling in the seats.
From the first notes of "I Want A New Drug" I knew were off the races as those in the know in the crowd stood up and clapped their hands over their heads in time with the song's driving drum beat.  The horn section was the focal point of the Fore! classic "Doing It All For My Baby" and though Lewis' voice was touch flat, he still sounded great for all his 41 years in the business and the crowd was getting more and more into the performance with every passing song.
Another Fore! era smash, "Jacob's Ladder" (which Lewis wrote with Bruce Hornsby), followed and featured a ripping guitar solo that only served to rev the crowd up a little more.  While things weren't getting crazy by any means, it was fun to watch these Polo and Khaki clad fans getting into the music I grew up on.  An a cappella take on the 50's tune "Little Bitty Pretty One" gave folks a chance to go grab a beer or sit down for a minute, as it wasn't without it's faults, but when the group launched into "Heart and Soul" pandemonium ensued as the crowd surged toward the stage.  The unconcerned security guards stepped aside and, short of not letting people from the back come forward, didn't do much about it and the fans were thrilled to so be close to a legend of 80's rock.  Lewis moved along the front edge of the stage and reached out and took fans hands as he sang and worked the crowd like the pro he is.
Though we didn't get two of my favorites, "Hip To Be Square" and "Stuck With You," when Lewis and the band returned to the stage for their encore he joked that "when we wrote this song we never thought we'd have to play it every night for the rest of lives," before breaking into "The Power of Love."  Back To The Future is one of my favorite movies of all time, and I listened to the soundtrack non-stop on my parents stereo in sixth grade, so I couldn't help but sing along with the rest of the crowd.  Lewis closed a great 75 minute by dedicating "Working For A Living" to all the working men and women out there in these tough economic times.
You see, in my mind the 80's pretty much belonged to Huey Lewis and The News.  I was addicted to Sports and Fore! and wore out the tapes of both albums.  I finally caught them in 1989 on their Small World tour at Saratoga Performing Arts Center in Upstate New York and I remember a sold-out crowd of nearly 25,000 fans and Lewis jumping off the drum riser, running around the stage, and delivering an all around awesome show!  23 years later, I've seen my share of music and I've got to say that show still stands out in my mind.  While this wasn't quite that caliber of concert, it was a fun evening of music.
Was a bit of a nostalgia trip for me?  Sure it was.  But was it also a good, soulful Rock and Roll show in it's own right?  Absolutely!  If you are a child of the 80's, or have a child who is, or simply like a bit of horn based soul injected into your rock and roll you can't deny the power of Huey Lewis and The News.  Now, if only they would play a club here in Denver instead of that shed down in Englewood.
Energy: B
Sound: A-
Musicianship: A-
Stage Presence: A-
Set / Light show: C
Overall: B+
Music has always been a part of my life. It probably all started listening to old Grateful Dead, Peter Paul & Mary, and Simon & Garfunkel records that my parents had, but it wasn't long before they were taking me to concerts like Starship, Crosby, Stills & Nash, and Huey Lewis & The News. I got the bug to write about music after reviewing an Eric Clapton concert for a creative writing project in high school but didn't really take it up seriously until 2002. Since then I have published countless articles in The Marquee Magazine and done some work for Jambase.com, SPIN Magazine, and various other outlets. I started Listen Up Denver! as a way to share the music information that is constantly spilling out of my head with people who care. Please enjoy!