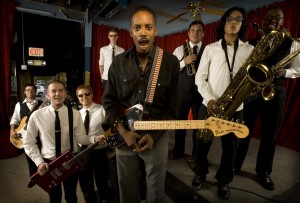 Why You Should Go: In the words of the bands guitarist Zach Ernst: "we feel like what we're doing is different from the soul bands with horn sections that are out there right now.  We always joke that we would do that kind of music, but we're not good enough: our guitars are too loud, we're too primitive on our instruments, and Joe is more of a shouter and a talking-blues guy than a smooth soul singer. So we're carving out our own thing because it's the only way that we can do it. We can't play it any cleaner or smoother—and we don't want to, either."
The bands "Garage Soul" sound is guaranteed to get your feet movin' as the eight piece band (including a 3 piece horn section) shreds through the roadhouse blues of "Mustang Ranch" and the deep funk of "Livin' In The Jungle."  They are a band that would be right at home behind the chicken wire of a roadhouse while at the same time they play tight enough to grace the stage of high end wedding.  Black Joe Lewis and The Honeybears are a unique outfit that have to be seen to be believed.
Venue:
The Bluebird Theatre, 3317 E. Colfax Ave, Denver, CO 80206 – 303/377-1666

Doors:
7:00 PM
*Price:
$18.00 Adv & $20.00 Door – Buy Tix
*All times and prices are gathered from other sources and I am not responsible for mistakes or inconsistencies. They are intended only as guidelines. Please, always call the venue if you desire the most accurate information possible.

Music has always been a part of my life. It probably all started listening to old Grateful Dead, Peter Paul & Mary, and Simon & Garfunkel records that my parents had, but it wasn't long before they were taking me to concerts like Starship, Crosby, Stills & Nash, and Huey Lewis & The News. I got the bug to write about music after reviewing an Eric Clapton concert for a creative writing project in high school but didn't really take it up seriously until 2002. Since then I have published countless articles in The Marquee Magazine and done some work for Jambase.com, SPIN Magazine, and various other outlets. I started Listen Up Denver! as a way to share the music information that is constantly spilling out of my head with people who care. Please enjoy!