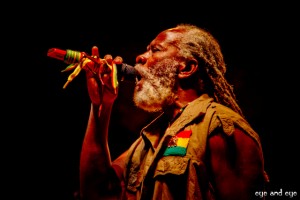 Photos by Ben Wilson's eye and eye photography
The Scene: This year was the 25th Anniversary of Reggae on the Rocks, and the enthusiastic crowd was a mass of colors, smoke and smiles. There aren't many opportunities for Reggae fans to gather here in Colorado, but man, did they come out of the woodwork for this one!
Jamaican colors were worn by those not from Jamaica, and brightly colored shirts, knit caps and guerilla bush fighter fatigues worn by those who were. As I stood at will call, an old Ford Bronco from the late 70's with the top off pulled into the dusty parking lot filled with Rasta's, and their dress and the vehicle blessed the scene with a certain amount of authenticity. Obviously, you don't have to have island heritage to be a true Reggae lover, but names like The Meditations, Steel Pulse and Burning Spear have influenced generations across the globe, and anyone within driving distance who has been blessed by the music of these Reggae greats wouldn't think of missing them together on the same stage. Therefore, a sort of pilgrimage was made by roots Reggae lovers to connect to a piece of home. Homes both in the recent and not so recent past.
What do I mean by that? Well, the lyrics of Steel Pulse and Burning Spear address some heavy subject matter, like a return to African Roots, and I can only relate to it on a certain level. For instance, when Burning Spear chanted out "Do you remember the days of slavery?"… I of course thought "No, I don't." None of us present there could actually remember the days of slavery, but some may have heard stories from family members, or have lived a life pondering that topic in ways I never could. To further that, when I first heard "Rally Round" when I was 15 I became aware of the fact that there was a global history beyond the history of our nation, and that I was only being presented the "King James Version," to quote Mr. David Hinds.
When people say they like Reggae, and mean bands like Slightly Stoopid or Rebelution, I immediately want to say, "but that's not Reggae!" I am a purist. I am someone who's first musical memory was my biker uncle putting on Steel Pulse's "Chant A Psalm" and the smell of herb and incense mixing with the sounds and taking me to another place. Now, before you start thinking that my uncle was ripping bong hits and blowing them in my face when I was six, it wasn't like that. But, at that time, in 1983, every one of my aunts and uncles on all sides of my family smoked herb and listened to music religiously. I was taught to see Reggae as revolutionary music, a music that talks of pain as well as joy, a music that is also a form of prayer. I see Reggae as spiritual music.
The Reggae/Rock scene has taken off over the past few years, and Denver is the second biggest market for bands like Dirty Heads, SOJA and Passafire while Southern California, where this sub-genre originated, has the highest concentration of Reggae/Rock lovers. The common themes with all these bands seems to be sun, smoke, surf and sand. There is no truth being spoken, no wisdom, no teaching. Some of these lyrics are actually laughable, as is the depth of the subject matter. All right, maybe I went too far. I just love Roots Reggae, and it almost pained me to see more bubblegum acts on the bill. As a matter of fact, I think The Meditations should have gone on after Rebelution, so I could have just shown up for the roots. Instead, my meditative connection to the music was interrupted by some beach blanket bingo boy band. Oh man, that time I did cross the line. My apolgies.
The Meditations: Like other godfathers of Reggae, The Meditations roots run deep. They contributed backing vocals to artists like Bob Marley, Gregory Issacs, and Jimmy Cliff, and also have worked with legendary producer and professor Lee "Scratch" Perry. That's a hell of a resume, and doesn't even include what they have done as The Meditations. Again, they played BEFORE Rebelution. I don't give a shit who sells more tickets or albums, at a show like Reggae on the Rocks, and the 25th anniversary at that, respect should have been given symbolically. I know…business, contracts, "mixing it up", blah, blah, blah. Forefathers are forefathers! Forefathers should not "open," "support," or "warm up the stage" for kids coming out of the sandbox stinking of strippers and strip malls.
When The Meditations took the stage at 5pm or so, (after Judge Roughneck and Yellow Dubmarine, who I didn't see) Red Rocks was still lit by the bright sun, and they radiated sweet vocals from the stage that hit us like a cool breeze. Fallsetto harmonies and a smooth and steady groove, The Meditations got our heads right, and put us in the mood for some more roots reggae…but instead we got Rebelution.
Rebelution: As much shit talking as I've done, these bros can lay down a groove and get people dancing, including me. All my ranting is really just to make people think, discuss and analyze what music means to them. Rebelution is one of those bands that their fans describe as "fun," and they might draw a blank after that. They may also say they are "cool." I think I watched nearly the entire amphitheater sing along to songs like "Sky Is The Limit," and "So High," but don't quote me on that. It was all one blur of words just jumbled together in seemingly random order set to music similar to Reggae in the way that pleather is similar to leather-at first glance it seems like the real deal, but once you take a closer look and get in close enough to smell it's essence, you see it's an imitation that smells like plastic.
Hey, some people love the plastic world we live in and just want to have fun in the sun, and don't need to take it further than that. I honestly was aghast at how many people sang along to their songs! I also realized that a majority of the people there came because of Rebelution, and not because of the masters playing after them. I must be missing something…or maybe I am just old. Music doesn't have to be good anymore, it just has to sell. I keep forgetting that. Actually, nothing has to be good anymore, it just has to sell. Clothes, food, music…just widgets and units to be sold to the masses who blindly consume. Am I taking this all way too seriously? Damn right I am…because music moves me more than any other force in my life. But I guess we all get moved by different things, and if Rebelution's music moves people, it's a beautiful thing. Seriously.  It just doesn't move me.
Steel Pulse: I have already explained my connection and reverence for this band, but seeing them live for the first time was beyond my expectations. I didn't know if the tightness, clarity, and precision was going to translate from studio recordings to live performance. Well, they were just as tight as when I heard them jump off of vinyl and through the speakers 29 years ago. David Hinds moved around the stage like someone half his age, and was surprisingly agile in his outfit. Hearing "Chant A Psalm," "Rally Round," "Roller Skates," and "Your House" being performed in the flesh was a powerful experience for me. I was taken over by the lyrics, and the infectious groove they pair with it. I got what I had come for. I felt connected with the people around me, with the person inside me, and with the music floating through the air. This is what Roots Reggae has always done to me, but I would be lying if I said the thick cloud of smoke didn't have something to do with it.
Burning Spear: When the imposing, ripped, and as black as the now night sky Burning Spear walked on to the stage, the crowd erupted, and the the night was brought to a whole other level. Burning Spear doesn't sing, he chants down Babylon. He summons spirits as well as lifts them. He enters a trance and channels energy from another plane. He burns. He burns like a hot fire stoked by centuries of history and eons of wisdom. For over two hours, 67 year old Winston Rodney shimmied around the stage busting moves that provoked the crowd. The fire inside Burning Spear was also fanned by the crowd, and as he repeatedly shouted, "Do you want more? Tell me you want some more!," and we breathed new energy into him by emphatically shouting back. Jamaican leader Marcus Garvey is an important figure to many, and  Burning Spear has a deep connection to his words and his roots. Hearing Burning Spear teaches me that the world's history should never be forgotten, that injustices should be challenged, that oppression should be crushed. His music makes me think outside of the box I was brought up in, and look at the world through an analytical set of eyes.
I expressed a lot in this review, or shall we say essay, but I hope it provoked you to think. I honestly feel very strongly about the power of real roots Reggae, and I needed to state that. In the end I'll admit that newer bands who incorporate Reggae elements are still turning others on to Reggae, and maybe if listeners dig deep enough, they will get to the roots.
Brian Turk grew up in the shadow of the Catskill Mountains, near Woodstock, NY. He comes from a family of music lovers, audiopliles, Dead Heads and avid concert goers.The musical magic that can only be created in the Catsklills, both past and present, is what Brian cosiders the epicenter of his music addiction. The music of The Band, and most recently The Levon Helm Band, is the soundtrack of home for him. Brian's mother took him to his first concert at 5years old...it was Johnny Cash and Roseanne Cash at Jones Beach Amphitheatre. For Brian, music is a family affair. He feels the same way about live music...we all convene to celebrate together. Brian's writing life started when he wrote his favorite author, southern fiction writer Clyde Edgerton, a fan letter at age 13. When most kids were idolizing baseball players and television, he was worshipping writers and musicians. The two became friends and Clyde shared his craft with Brian. The next year Brian attended Duke University's Young Writers Camp. This is the extent, of what Brian considers, his "formal" training in writing. From then on his goal was to capture snapshots of life through words. Brian has been involved with live music in various facets over the years, and combined with his enthusiasm and love for Denver's music scene, he creates a vivid description of what he sees and hears. If you see him out at a show, dancing with a notebook in hand, say hello.