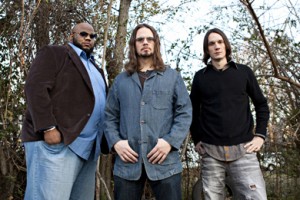 Photo by Jason Thrasher
You asked for bigger giveaways, and you're getting them! We've got a pair of tickets to see North Mississippi Allstars and Missing Cats featuring JoJo Hermann of Widespread Panic at The Ogden Theatre on Saturday, September 15th.
To be entered in this contest once just post "North Mississippi Allstars are going to find some Missing Cats at The Ogden" on our Facebook wall. 
For those of you not on Facebook, shoot us an email at listenupdenver@gmail.com saying: "I want to see North Mississippi Allstars and Missing Cats at The Ogden!"
PLEASE NOTE: Entry deadline is 5pm MST Thursday, September 13th and the winner will be notified by email or Facebook no later than Noon MST on September 14th.
Growing up in Mississippinear Memphis, TN, Luther and Cody Dickinson have had a life-long experience in music.  The brothers soaked up the music of their father, acclaimed musician and renowned producer Jim Dickinson, and absorbed the North Mississippi Blues legacy while playing and shaking it down at the juke joints with their blues ancestors. In 1996, inspired by the Mississippi Hill Country blues tradition of local heroes RL Burnside, Fred McDowell, Junior Kimbrough, and Otha Turner, the Dickinson brothers added bass player Chris Chew and formed the North Mississippi Allstars.  After more than a decade touring together and releasing five studio albums, three of which were Grammy nominated, the brothers decided to branch out and pursue other projects.  In 2008, Luther played guitar and mandolin on the Black Crowes release "Warpaint" and soon became a full time member of the band.  In 2009 he formed the South Memphis String Band with Alvin Youngblood Hart and Jimbo Mathus, touring moderately and releasing an album Home Sweet Home. Meanwhile, Cody formed his own group Hill Country Revue, which released its debut record "Make A Move" in May 2009.  They followed up with the release of "Zebra Ranch" in the fall of 2010.  The band toured heavily behind the release and has shared the stage with a number of lauded musicians including the Dave Matthews Band, Gov't Mule and Big Head Todd & the Monsters.
Missing Cats features John "Jojo" Hermann, longtime keyboardist of Widespread Panic, and New York City-based singer-songwriter, Sherman Ewing. Playing with only a piano and acoustic guitar on stage, Hermann and Ewing combine the sounds of New Orleans boogie-woogie piano and raw emotive songwriting.
Jojo and Sherman met in New York City, and started playing the clubs in1983. Discovering they shared a passion for songwriting, the classmates formed Sherman and the Bureaucrats. Jojo moved to Mississippi in the late '80s and joined the Oxford based band, Beanland. Then in 1992, Jojo became a member of the Athens, GA band, Widespread Panic. Sherman continued to develop his singer/songwriter sound and guitar playing in various New York bands until 2002, when he launched his solo career.