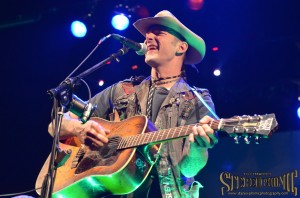 Photos by Johne Edge
The Scene: After driving home, non-stop, from the Burning Man festival in the Nevada desert anybody would be ready for a long night's rest.  Fortunately for me there is an old saying that goes "there is no rest for the wicked" so last Tuesday night found me on a barstool at George's with a camera around my neck, a PBR in one hand, and a glass of Whiskey in the other.  George's is a great little watering hole that is connected to the Boulder Theater and, sitting there surrounded by Lisa Siciliano's phenomenal concert photos, it was the perfect  place for a couple of drinks before the evening's Hank 3 show.
Hank 3: Last Tuesday was the twentieth show and final on Hank 3's West Coast Tour.  Since Hank hadn't been to Boulder in a while, this was a long awaited tour by fans and the band alike.  Hank 3's DIY work ethic allows him the freedom to explore Country, Doom Rock, Speed Metal, Punk, and even a little cattle callin' and he put it all on display for the adoring fans.  Hank 3 and the boys are doing what they want to and encouraging others to do the same and that's what keeps the fans coming back.
Based on the crowd, Hank 3 fans are as eclectic as the man and his music.  There were cowboy boots and hats in the audience as well as stage diving punk rockers, and with this being the only Colorado show I met people in attendance from Denver to parts as far north as Cheyenne WY.  The merch table with only small, XXLarge, and XXXLarge shirts left in stock before the show even started was a testament to Hank 3's ever growing legion of fans.
From Honky Tonk to Metal, Hank 3 played it all as he and his boys played three unique sets without a break.  The sets featured Hellbilly,  Attention Deficit Domination, and 3 Bar Ranch. The first part of the show featured plenty of songs about what else other than Whiskey, weed, and women.   Paying homage to his grandfather, the country set also included the Hank Williams Sr. song, "I'll Never Get out of This World Alive."
The final two sets showed the heavier side of Hank 3.  It was filled with a dark driving sound, heavy guitar riffs, and drums keeping cadence with the call of a cattle auctioneer and it all provided the perfect soundtrack for the movie Tribulation 99 which was projected behind the band.  After more than three and a half hours of music the sweaty fans made it clear that they got everything they were looking for and more.  Knowing it is all about the folks who spend their hard earned money to come to the shows, Hank 3 even stuck around after the show to meet and greet fans.
Energy: A
Sound: A
Musicianship: A+
Stage Presence: A
Set/Light show: B+
Overall: A
Wherever the music is, you'll find me with my camera, shooting on street corners, from barstools at clubs, from the side of the stage at theaters, and from photo pits in places like Red Rocks. Clicking away, trying to capture the emotive essence of music, and all those moments that we forget because of one too many Pabst Blue Ribbons.