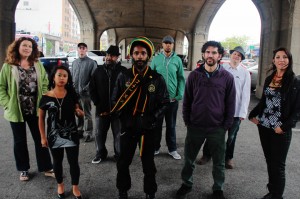 Thirty years ago when Michael Jackson's album Thriller came out, I was a teenager listening to heavy metal and punk rock.  With music from AC/DC and The Ramones blasting from oversized headphones plugged into my record player, I had no time for the future "King of Pop."  Or at least, that's the way I remember things.  On August 28th, the day before the 53rd anniversary of Michael Jackson's birth, Easy Star All-Stars released their new tribute album Easy Star's Thrillah.  I really liked Dub Side of the Moon, Easy Star's tribute to Pink Floyd.  So I figured I would give the new album a shot.  Listening to the Reggae and Dub renditions of what some would say is the quintessential Michael Jackson album I found that I knew all the songs.  In my mind I wondered how any self-respecting, former head banging, punk rocker could know such things.  That is when I realized that Michael Jackson is my guilty pleasure music.  You know the music that you know all the lyrics to, but will only sing in the car with the windows rolled up, so nobody knows.  Loving the Reggae arrangements and overdubs that Michael G did on the new album, it quickly went into constant rotation on my iPod.  After only two weeks, and because of this album, I now roll down the car windows and openly profess my love of Michael Jackson for the whole world to hear.
Listen Up Denver! recently caught up with Michael G of the Easy Star All-Star's and talked to him about the new album and the tour that is coming to town this weekend.
Listen Up Denver!: Your latest album, Easy Star's Thrillah, is your fourth in a series of popular albums re-visioned in a reggae and dub style.  Why Michael Jackson's Thriller?
Michael G: There are a few reasons, one of our criteria for picking an album to do a tribute of is that it has to be a great album filled with interesting and well written songs that are diverse.  This makes it easier for us to come up with cool and interesting versions of our own, and Thriller definitely fits that bill.  Also, we want every album we do to be different.  We have done three albums that were different, each in their own way, but they were all rock albums.  I thought it would be very important and cool to do something based on an R&B album.  R&B is so important to the history of Reggae.  Reggae as we know it wouldn't exist if it weren't for the influence of American R&B that Jamaican musicians were hearing back in the 50's and early 60's before Reggae even existed.  American R&B has always informed what's going on in Jamaica.  Even to this day, current Dancehall is very much informed by whatever current Hip-Hop and R&B is happening in the US.  It is an important connection that is sometimes lost on people.  A lot of current Reggae listeners in the US know Bob Marley, and they know the more recent American Reggae bands.  They are all great, but they come from more of a rock perspective… you know Reggae and Rock.  I think a lot of these fans maybe missing out on the valued history of the R&B influence on Jamaican music, and Reggae in particular.
LUD!: You guys don't just pick and choose your favorite tracks, but rather you remake the album in its entirety, track for track.  How difficult is this and can you share with us about the process?
MG: Just deciding what album to use is difficult to do.  If we are going to spend so much time, effort, and money on making a tribute album, we really want it to be what we feel is the right album for that time.  The process starts with me and two of my other partners at Easy Star Records, Lem Oppenheimer and Eric Smith, we banter back and forth on ideas, for months even, just trying to come up with one album that we want to use.  Then after we make that decision, I start listening to that album as much as I can with my producer and arrangers cap on, and not as just a fan of the album.  That way I can really understand each song on every level.  Then I start to write the Reggae arrangements, but I don't go in order I just work on the song that is calling out to me.  Sometimes I go through two or three arrangements before settling on the one I want to use.  Then after the arrangements are all worked out I give them to the musicians to lay down in the studio.  Then it's the process of overdubs and adding all the guest vocalists.  The really fun part is doing the mix and adding all the different Dub effects.  I mix it pretty much live.  I still mix using a console and outboard gear, and I mix to tape.  So it is very much trying to capture an analog, old school vibe.  I treat the mixing as a performance in itself.  Every mix of a song is going to be different because it is not on a computer, nothing is automated, it's me running around the board…changing dials and moving faders…constantly changing things why it is all happening.  Unfortunately a lot of modern music is thought out ahead of time on a computer and all you have to do is press a button and the mix is all set up…  I would still rather keep the mix on a human level.
LUD!: You guys worked with fellow Easy Star Records label mates The Green and Cas Haley on Easy Star's Thrillah.  How was that experience?
MG: One of the great things about Easy Star Records is all the phenomenal artists we have worked with and built relationships with over the years.  A couple of years ago we started working with Cas Haley.  We put out his last album, and then an EP after that. He is such a great guy, and a fantastic singer… an amazing talent.  I also know that he is a big Michael Jackson fan.  So when this project came up, I really wanted him to be a part of it.  It turns out that he really loves the song "Human Nature" so I thought he would be great for that, and things just worked out really well.  The Green is a really talented group from Hawaii.  We put out their last album, and we actually just dropped a new single from them this week.  One of the things that first attracted me to The Green as artists was their singing ability.  There are four people in the band, all of whom sing lead, but at the same time they harmonize really well.  The things I love about Michael Jackson's music is all the harmonies.  So I really wanted to get The Green involved on a song.  "Baby Be Mine," such a great Pop love song…I thought they would do a good job on it and they really did.
LUD!: With so much material to choose from, your originals and reinterpretations of Pink Floyd, Radiohead, The Beatles, and now Michael Jackson, what can folks who are coming out to your Colorado shows this week expect?
MG: We'll be doing a lot of songs off the new album for this tour…so far the fan response has been amazing, so that's great.  Of course every show is going to include songs off Dub Side of The Moon, Radiodread, and Easy Star's Lonely Hearts Dub Band and an original or two.  So it will be a very diverse set.  People aren't going to know what's next, but they are going to love all the songs.   We love playing Colorado.  Even when we aren't on a national tour, we will go out to Colorado for a few shows, we have such a great fan base there.  We are hoping that some folks will be able to get out to more than one of the shows and see a few different sets.
Go out and grab Easy Star's Thrillah, available now at Easy Star Records or on iTunes, and be sure to catch Easy Star All-Stars on one or more nights as they play Colorado this week with Passafire.
Sep 13 – Boulder, CO @ Fox Theatre
Sep 14 – Denver, CO @ Cervantes' Masterpiece Ballroom
Sep 15 – Aspen, CO @ Belly Up

Wherever the music is, you'll find me with my camera, shooting on street corners, from barstools at clubs, from the side of the stage at theaters, and from photo pits in places like Red Rocks. Clicking away, trying to capture the emotive essence of music, and all those moments that we forget because of one too many Pabst Blue Ribbons.