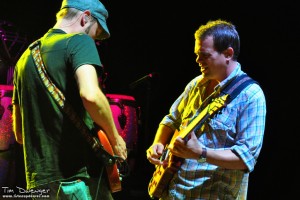 Photos by Tim Dwenger
Umphrey's McGee and Railroad Earth teamed up this past weekend for a monster co-headlining show at Red Rocks.  Stretching from 7pm till 1am, the two bands combined for around five hours of music that ranged from Bluegrass pick-a-thons to Prog-Metal guitar heroics.  It was a diverse line-up to be sure, but the crowd came early and stayed late.  Todd Sheaffer and Railroad Earth hit the stage first for a two hour set that was highlighted by "Mighty River," a ten minute "Elko" that featured Umphrey's Joel Cummins tickling the ivories, and a set closing "Colorado" that brought the house down.  By the time UM took the stage under their dazzling array of lights, the party was in full swing and they kept things going strong with a high energy show that featured "Puppet String," "Nothing Too Fancy," and a superb cover of Radiohead's "Weird Fishes/Arpeggi" that left many wondering what this band can't do.  Just after 12:30 in the morning the six members of Umphrey's left the stage and returned shortly with several members of Railroad Earth for a powerful version of Zeppelin's "Kashmir" that rewarded those who stuck it out till the bitter end handsomely.  Next year,  I wouldn't be surprised if either one of these bands headlined the legendary venue on their own, and they might well sell it out!
Railroad Earth Setlist:
Set 1: Seven Story Mountain, Happy Song, Gold Rush, Mighty River, Saddle of the Sun, Old Man and the Land, Elko*, Mourning Flies – > Lone Croft Farewell, Long Way To Go, The Hunting Song – > Spring-Heeled Jack, Colorado
* – w/ Joel Cummins of Umphrey's McGee on Keys
Umphrey's McGee Setlist:
Set 1: There's No Crying in Mexico > All in Time > Jimmy Stewart (w/ lyrics) > All in Time, Puppet String > 2×2, Miami Virtue > The Linear > Weird Fishes/Arpeggi, The Floor
Set 2: Ocean Billy, Nothing Too Fancy > Mulche's Odyssey, End of the Road, Conduit > Nothing Too Fancy, Plunger > Puppet String
Encore: Kashmir*
Encore 2: JaJunk
* – w/ several members of Railroad Earth
Music has always been a part of my life. It probably all started listening to old Grateful Dead, Peter Paul & Mary, and Simon & Garfunkel records that my parents had, but it wasn't long before they were taking me to concerts like Starship, Crosby, Stills & Nash, and Huey Lewis & The News. I got the bug to write about music after reviewing an Eric Clapton concert for a creative writing project in high school but didn't really take it up seriously until 2002. Since then I have published countless articles in The Marquee Magazine and done some work for Jambase.com, SPIN Magazine, and various other outlets. I started Listen Up Denver! as a way to share the music information that is constantly spilling out of my head with people who care. Please enjoy!