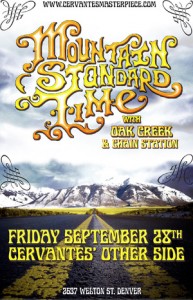 Yep you heard it right . . . The Oak Creek Band and Mountain Standard Time are teaming up for a show at Cervantes' on Friday night and they are giving away FREE BEER until 10pm, or until the keg runs dry!  Show up early and get your drink on to prep for an outstanding night of music.  Doors open at 8, and tickets will be $10 at the door, but you can save yourself even more cash because we have a couple of pairs of tickets to giveaway right now!
To be entered in this contest once just post "Oak Creek and Mountain Standard Time are Giving Out Free Beer at Cervantes' Friday Night" on our Facebook wall. 
For those of you not on Facebook, shoot us an email at listenupdenver@gmail.com saying: "I want to see Oak Creek and Mountain Standard Time at Cervantes'!"
PLEASE NOTE: Entry deadline is 4pm MST Friday, Sept 28th and the winner will be notified by email or Facebook no later than 5pm MST the same day.  Please, only enter if you can go to the show!
Mountain Standard Time
As a bluegrass band that's anything but traditional, Mountain Standard Time follows in the footsteps of such Colorado greats as The String Cheese Incident and Leftover Salmon. While leading acoustically with guitar and mandolin, MST brands its own style, boasting a big, full-band sound with keyboards, electric bass, drums, and electronic effects.
The members of Mountain Standard Time hail from all over the country, yet their musical paths crossed in Nederland – a small, Colorado mountain town steeped in bluegrass music. Whether you chalk it up to fate or coincidence, music goers everywhere are coming together to enjoy the "bluegrass fusion" that these five friends and musicians have come to create. MST has performed all over Colorado and across the country, with appearances at Wakarusa Music Festival, 10,000 Lakes Festival, Summer Camp Music Festival, and the Telluride Bluegrass Festival contest finals, among other events.
After some time away from the road, 2012 returns Mountain Standard Time back to the live music scene. The band's unique sound adds new dimension as Otis Lande joins on bass and Ryan Ebarb (formerly of Yamn) on keyboards.
Mountain Standard Time's roots stem from late night "picks" among the bluegrass faithful, making music lovers dance from mountain towns to backwoods campfires. Rich lyrics, original melodies, vocal harmonies and driving backbeats have been moving fans across the country, while the band's unique charisma has been winning hearts.
Oak Creek
The Oak Creek Band is a five piece American Roots Rock group, originally from Sedona, Arizona now based out of Denver, Colorado. Known for their soaring harmonies, original melodic arrangements, and high-energy live performances the groups sound is described as an eclectic mix of soul and folk influenced indie-rock. Currently the band travels the country independently performing their original songs in the do-it-yourself spirit of the new music industry.
Chain Station
Chain Station is a 4-piece, high-energy, get 'em out on the dance floor stringband from Denver. Originally from the Midwest, they've quickly amassed a rabid fan-base in the Colorado Mountains and Front Range, hungry for the catchy and lyrically-poignant original material pouring forth from this prolific group of capable musicians.
Their live shows have become that of legend, with energy and stage antics that guarantee one hell of a night out. Equally comfortable rocking a packed club, playing backyard BBQ's, or providing tasteful mountain music for your wedding, this band does it all…with style.