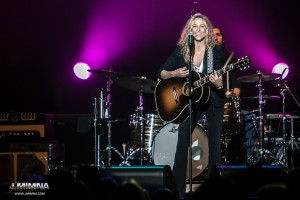 Photos by Jim Mimna
The Scene: Last Saturday night, The Flight For Life Benefit and KBCO's 35th Anniversary concert was held at the 1stBank Center in Broomfield. With performances from KBCO darlings like The Dunwells, Amos Lee, and Sheryl Crow it was a bit surprising that the modest arena was only a little over half-full of fans, radio station devotees, and folks out to support a great cause.  Between Lee and Crow's sets, a group of Flight For Life pilots were honored on stage by AEG's Chuck Morris among others as the organization thanked the crowd for supporting their efforts to purchase a new helicopter.
Amos Lee: A laid back guy in a knit hat and dark, thick-rimmed glasses, Amos Lee surprised some when he walked on stage alone with his guitar in hand for a solo acoustic set. He expressed his gratitude and mentioned that really wasn't use to playing such large venues as he joked with the seated crowd about how he was anxious that he'd get on stage and start cussing. After asking us if he did, which elicited a chorus of laughter, he went on to list a few expletive examples of what he would have said had he slipped up. The initial icebreaker was well received and Lee laughed along with the crowd. While he seems familiar and relatable as an artist, he has a robust, buttery smooth Folk sound that is so authentic that he can't be compared side by side with many other artists on the scene today.
Lee's short set was sincere and he seemed to really create a connection with the relaxed crowd. The Philadelphia native spoke of his involvement with Musicians On Call, and told a story about playing "Cup of Sorrow" to a depressed elderly woman in the hospital and shared how that song brought her up on her feet to dance. As fans called out for him to play their favorites, he acknowledged their requests with stripped down versions of "Windows Are Rolled Down" and "Out Of The Cold," both from his 4th studio album Mission Bell released in 2011.
Sheryl Crow: Steel guitar and Country infused melodies were laced into Sheryl Crow's classic songs on Saturday. Guitars a' blazing, Crow came out with the enthusiastic "Steve McQueen" and the once chilled out crowd rose to their feet. I watched as one gentleman sitting in the floor seats literally kicked off his shoes and began to dance barefoot in the isle. He managed to recruit many others to join his animated dance party which continued throughout the entire concert.
Although it was a half full venue, you would never have noticed it in Sheryl Crow's performance or the way the fans celebrated her. Hit after hit she sang like it was her first night on stage. Her energy was infectious and each song had such unspoiled delivery and excitement that the crowd was alive with enthusiasm. Despite the slightly awkward seating in the venue and the distraction of the heavily enforced "No Photography" policy, (including cell phone cameras) it didn't seem like anything could stop this group form kicking up their heels, or from sneaking in a photo or two.
Crow spoke of her love of Colorado that began when as a child when she would visit her family in Glenwood Springs.  She also mentioned that our state was one of the first to play her debut album Tuesday Night Music Club, and that she loved travelling around Colorado and sharing her music. She also spoke of how honored she was to be supporting a great cause like Flight For Life.
Well known songs like "Can't Cry Anymore," "Favorite Mistake," "All I Wanna Do," and "A Change Would Do You Good," created a feeling of listening to a live greatest hits album that spanned over nearly two decades and several different genres of music. Sheryl Crow has that appeal and talent that keeps her relevant and the gracious attitude that keeps her fans right in her back pocket.
Energy: A
Musicianship: A
Sound: A-
Stage Presence: A
Set/Light Show: B
Overall: A-
Karson Brown is Colorado native, local concert photographer and travel photographer. An Art Institute of Colorado gradate, she has a strong background in photography and design. With a passion for nearly all genres of music, Karson has the vision and love for performances which is infused in her written word and photographs. Karson's connection and roots in Colorado keep her grounded and involved in local events and concerts.