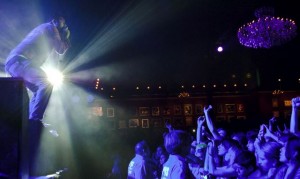 Photos by Charlie Frost
The Scene: Nu-metal was a wide-sweeping term in the late 1990s and early 2000s, and several popular bands experienced continued success long after the movement faded away. While bands such as Incubus and Linkin Park evolved and greatly tweaked their sound to cleanse themselves of the nu-metal label, others such as System of a Down and Deftones remained as heavy as ever, aged gracefully, and managed to earn consistent praise from fans and critics alike. In 2012, it only seems appropriate for the Deftones and (a fraction of) System of a Down to play a series of shows together after Incubus and Linkin Park paved the way earlier this summer with their own celebratory joint tour.
On Friday night, Denver welcomed the Deftones and Scars on Broadway (fronted by System's Daron Malakian) to the Fillmore Auditorium for an evening filled with loud guitars, emotional intensity, and charismatic frontmen. The most concise description for the Fillmore's atmosphere was "dark," in more ways than one – the dimly-lit ballroom, the dark-colored attire of many fans, the deep shades of blue lighting during the Deftones performance, and the dark themes and characteristics of the music itself.
The ever-growing history of both bands brought in a diverse crowd that ranged from clean-cut 30-somethings that came to the Fillmore straight from their offices, to large, stout, animal-like guys with long hair and tangled beards. I also ran into a few couples that were making out during some of the more hypnotic, droning songs. It was almost as romantic as the time I saw a couple getting married at a Lamb of God show in Los Angeles (true story).
Opener: Scars on Broadway.  I was looking forward to seeing Scars on Broadway. I've always been a big System of a Down fan and after the band went on hiatus, Scars on Broadway's debut album offered a much-needed fix of Daron Malakian's crunchy guitar riffs, melodic vibrato-tinged vocals, and exaggerated vulgarity (the song "Chemicals" takes this approach to a new, ridiculous level). Malakian's four-piece band delivered a solid, half-hour set that mostly consisted of familiar tunes from their 2008 LP, with a pinch of new material from an upcoming second album to entice fans. There was little time to converse with the crowd between songs, yet Malakian managed to occasionally say something brief, cryptic, and/or ludicrous before unleashing more buzzsaw power chords on his Gibson guitar. Despite the undeniable heaviness of Scars' sound and Malakian's onstage antics, it's slightly subdued compared to the frantic metal influences and Zappa-esque humor of System of a Down, and that isn't necessarily a bad thing. Instead, with Scars, you're given a helping of very heavy, offbeat pop-rock. By the time Scars left the stage, I was torn – I was looking forward to an inevitable upcoming release from the band, yet like many others, I longed for a permanent System of a Down reunion.
Deftones: After patiently waiting for roadies to prepare equipment for the headlining act, the room went completely dark as members of Deftones calmly filed their way onstage before going straight into a pair of songs from White Pony and forging on with a diverse mix of old and new music including songs from their upcoming album Koi No Yokan. One thing that really stands out during a live Deftones performance is the crowd's fluctuating response to the music. Subtle stylistic changes between songs triggered vastly different reactions from people in the crowd. One moment people were swaying in a dazed trance as thick walls of guitar distortion washed over them, then, a minute later, injecting the slightest bit of additional energy into a drumbeat or riff would get the crowd moving, jumping, and moshing in all directions. As a whole the band's music walks a fine line between being strangely beautiful and harshly dissonant, and the energy from Friday night's fans further enhanced the on-edge sensation.
Another thing I greatly appreciated was the aggressive, crunchy tone that resonated from guitarist Stephen Carpenter's amplifiers. Carpenter wielded a 7-string axe throughout the band's performance and delivered numerous varieties of heavy riffing – palm muted lines with tight rhythms, abrasive chords, squealing high notes – all of which were layered with a gargantuan amount of distortion. Carpenter himself was fun to watch onstage as his large mop of dark hair flailed around during intense head-banging sessions. Approximately half of the songs featured frontman Chino Moreno playing rhythm guitar parts on a Gibson SG to augment the overdriven decibel levels.
Despite the quality guitar riffs and the enthusiastic crowd, the two highlights of the entire evening were Chino Moreno and Daron Malakian. Both of these frontmen really know how to work a crowd during the actual musical performances, rather than just cracking jokes or kissing up to the fans between songs. Daron is a real treat to watch because he never takes himself seriously. During several instrumental breaks, he would spin around like a top, make exaggerated, demonic facial expressions at those in the front row, and occasionally break into sarcastic mock dance routines. I've seen Deftones several times and Chino Moreno's energetic onstage presence is both exhilarating and contagious. At any given moment, he'd lean into the crowd screaming lyrics into fans' faces at point blank range, hop onto (and off of) amps and drums, or nervously pace around his bandmates. His vocal delivery was representative of the band's previously mentioned tendency to walk a fine emotional line. There were plenty of quick transitions between long, melodic notes, growling, and high-pitched shrieks. All of the emotional/musical outbursts were particularly powerful as the Deftones continue to perform and record without their original bassist, Chi Cheng, who is still recovering from a car accident-induced coma. During the midpoint of the band's set, Chino dedicated a song to his injured bandmate.
Seeing Friday's show was the equivalent of raising a glass and having a nostalgic toast for musicians from my youth – here's to 10-15 years of quality music and to more enjoyable tunes in the future. Rather than constructing an entire playlist of decade-old hits, both bands remain ambitious, productive, and relevant. They're garnering new fans, yet they're also shrewd enough to only slightly alter their style over time and retain many of the original musical traits that built the foundations of their fanbases. It wouldn't surprise me to see these guys touring in another 10-15 years.
Energy: A
Sound: A
Musicianship: A
Stage Presence: A-
Set / Light Show: B
Overall: A-
As a kid, my parents were always cool. They took me to a Don Henley concert when I was four years old. When I was an angsty teenager, they were fine with me going to a Limp Bizkit concert with my best friend and returning to the house later that night naively smelling like weed. In 2005, the same friend (who, at the time, enjoyed metalcore and wore girl pants) worked at a mom-and-pop guitar store and was randomly offered two Hilary Duff tickets by the store owners. Long story short, I'm not one to argue with free stuff. From the beginning, I've always kept an open mind about live music and attending shows. Concerts often inspire me, regardless of genre. The opportunity to witness the onstage culmination of tireless rehearsing, hard work, and songwriting is always exciting to watch, and it's also important to document. Somehow, I've stumbled into this great gig where I get to write about the fun times I have at live shows and then sharing them with you, the reader. In my spare time, I write/record/produce my own hard rock material, which can be found/heard here: www.sparkmandrill.bandcamp.com