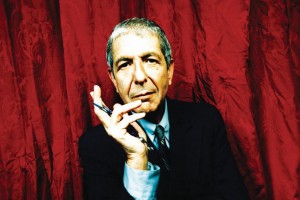 Why You Should Go:  In his sixth decade of producing critically acclaimed music, Leonard Cohen remains at the top of his game and is arguably one of the greatest singer-songwriters of all time.  Citing W.B Yeats, Irving Layton and Walt Whitman as literary influences Cohen first shot to the forefront of the music industry in the 60's and has remained an inspirational talent and contributor to the industry since he first emerged. His lyrics of lust, love, religion, death and seclusion have enlightened fans and musicians worldwide. Boasting an estimated 1,330 covers of his original songs, Leonard Cohen's work has enamoured the likes of U2, REM, Nick Cave and the late Johnny Cash, among many others.
Leonard Cohen earned rave reviews throughout his triumphant 2008-2010 World Tour, with The Observer praising the show as "An evening of pure gold," while The Daily Telegraph plainly stated "immaculate, beautiful, exquisite." The Independent reported that "to hear him sing is still an experience to truly make young women and romantics shiver and sweat" and Toronto Sun declared Leonard Cohen "Charming, funny, poignant, smart, sharp, sexy; he is still a ladykiller." Daily Express hailed that "Leonard Cohen is special and all two-and-a-half-hours of this concert was unforgettable" and Irish Independent recounted that "What I witnessed was soul inspiring on every level, I have never been so moved by a performance, everything about the night was magical." The Times suggested "On this kind of grand autumnal form, he should tour every year."
Venue: 1st Bank Center, 11450 Broomfield Lane, Broomfield, CO 80021 – (303)410-8497
Doors: 6:30 PM (Cohen on-stage promptly at 8pm)
*Price: $49.50-$250.00
PURCHASE TICKETS
*All times and prices are gathered from other sources and we are not responsible for mistakes or inconsistencies. They are intended only as guidelines. Please, always call the venue if you desire the most accurate information possible.