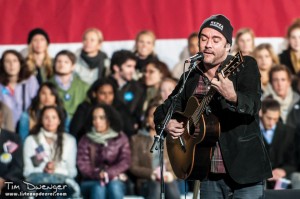 Photos by Tim Dwenger 
[Editor's Note: This article has been updated to include video of Dave Matthews performance at the bottom of the page]
Last night, President Obama staged his last Colorado campaign rally before tomorrow's election and if you talk to just about anyone who went they will tell you about one thing aside from President Obama and Dave Matthews . . . the line.  Estimates had the four or five person wide mass of humanity stretching for well over a mile, and maybe two, as it snaked up streets, around buildings, and through fields.  It was enough to deter even the staunchest of supporters and biggest of fans (and it did, by the thousands I'm sure.)  The line, coupled with temps in the 30's, ensured that everyone who persisted got to attend the event.
From seniors to little kids in strollers, more than 20,000 Coloradans of all races, and ethnicities packed the quad at the Community College of Aurora for well over 3 hours as Senators Bennet and Udal, and Governor Hickenlooper kept spirits high before Dave Matthews finally took the stage for a relatively short acoustic set that included John Denver's "Take Me To Tomorrow" alongside "Funny The Way It Is," "Mercy" "You & Me."  Given the nature of the event it was only appropriate that Matthews discuss the election but he kept it brief, saying only "I'm here because I'm so proud that we brought Barack Obama into the White House four years ago and I think if we push a little harder we are gonna get him in again and that's all we can hope for and work for."
The five song set featured some typically goofy "Davespeak" as he Matthews joked about the dry air and how "it's hard to sing with yourself when yourself is after you are" due to a delay in speakers to his left, but he got the biggest laugh of the night when he said "I am not from here.  Unlike the President I was born in Africa," just before he closed the set with a stirring take on "Don't Drink The Water" that featured a few bars of "This Land Is Your Land."
After Matthews left the stage, we still had about a thirty minute wait until The President was introduced by a Neighborhood Team Leader for President Obama's grassroots campaign in Aurora, Michael Davis.  Obama emerged on a long runway and made his way to the podium for a a very loose and relaxed 20 minute speech that addressed the devastation and suffering as a result of Hurricane Sandy before highlighting his major campaign messages.
He joked with his supporters, paused to respond to a few individuals directly (including one women who commented on how his grey hair "looks good baby,") and seemed to get a real kick out of the crowd responding with "chump change" every time he mentioned something the Romney campaign was positioning as "change" in their campaign.  The clock may have been pushing past the 11pm mark, but the crowd was eating it up and people stood in rapt attention as Obama built the speech up to a passionate peak that ended the rally in a call to action . . . Go Out and VOTE!
After he left the stage, The President worked the crowd for a good twenty minutes doling out hugs, lots of handshakes, and an occasional kiss on the cheek.  It was striking to see the leader of the free world in some very candid and emotional conversations with average everyday Americans.  He may be the most powerful man in the world, but from our vantage point he seemed like a regular guy who cares about what goes on in the lives of his supporters and takes the time to tell them so.
Music has always been a part of my life. It probably all started listening to old Grateful Dead, Peter Paul & Mary, and Simon & Garfunkel records that my parents had, but it wasn't long before they were taking me to concerts like Starship, Crosby, Stills & Nash, and Huey Lewis & The News. I got the bug to write about music after reviewing an Eric Clapton concert for a creative writing project in high school but didn't really take it up seriously until 2002. Since then I have published countless articles in The Marquee Magazine and done some work for Jambase.com, SPIN Magazine, and various other outlets. I started Listen Up Denver! as a way to share the music information that is constantly spilling out of my head with people who care. Please enjoy!