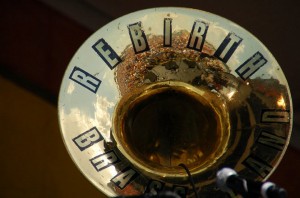 The Scene: Halloween weekend in Denver is a big deal. Every major venue is packed with costumed music lovers and this year the hallowed theme of the revelers All Saints' Day preparation was the sanctity of Funk. I was at Cervantes' Masterpiece Ballroom, where Rebirth Brass Band was marching the saints in with New Orleans Brass Band Funk.
The Motet packed The Ogden for two nights recreating the sounds of Parliament Funkadelic [Editor's note: Read our review here]. March Fourth Marching Band brought their fun and Funk filled vibe to The Gothic [Editor's note: Read our review here], and considering the fact that Karl Denson's Tiny Universe was the big Halloween night show in town, I would definitely say that during the scary times of Halloween, Denver sure ain't afraid of the Funk.
When I walked into the Ballroom, Liebermonster was just putting the finishing touches on a set with some impressive improvisational Jazzy Psychedelic Funk. During the break, house speakers began pumping out Dr. John, and the dance party was on. I have never seen an audience so engaged in house music; it was a tell-tale sign of the night to come.
Paa Kow's By All Means Band: The crowd was already well primed, and Paa Kow's By All Means Band pumped more fuel into the party engine. I was upstairs near the greenroom when the band took the stage, and positive energy seemed to be glowing from the group. They poured that energy onto the crowd as the band took us through a set that was nothing less than spectacular. These guys may be a local band, but the intricate rhythms from Paa Kow's Drum kit spoke of his African roots as he displayed some of the best drumming skills I have ever seen. I truly mean that. No, he may not be a massive kit-wielding rock drummer, but he played like his feet were still on African soil in a style I have never seen. The rims of the drums were as important as the skins, and sticks were used in a much less "head on" fashion. It was more like he danced with the drums instead of attacked them, and his position front and center on the stage made this easily visible as he sang multi-lingual lyrics through a headset microphone.
We danced along as we heard Afro-Beat blended with Funk, Pop, Latin, Caribbean and Soul, moving as if it were involuntary. Seven members strong, Paa Kow and his band drew quite an enthusiastic response from the crowd after finishing up their set with the infectious "Be Honest."
Rebirth Brass Band: Nearly 30 years ago some New Orleans bred buddies decided they were going to keep a Creole cadence full time, and Rebirth Brass Band was born. Over the years Rebirth has kept the New Orleans tradition alive and shared it with millions of audience members across the globe. Steady touring and solid albums have made Rebirth an institution and a Grammy win this year gave them a small amount of the recognition they deserve.
Both Rebirth and Paa Kow speak in a specific dialect of music as they reflect flavors from their home turf in a truly authentic and inspiring way. I have never been to New Orleans or Ghana, but the way these bands played made me feel like I had gone to both destinations in the same night.
Denver loves it's New Orleans based bands, and the bands feel the same about us. How could they not? Bands like The New Orleans Suspects, Dirty Dozen Brass Band and Trombone Shorty & Orleans Avenue all play to packed houses filled with enthusiastic dancing freaks. Aren't all venues across the country filled with as much dancing as our dancehalls you might ask. No! Seriously…many nationally touring bands have mentioned Denver's dedication to dancing in conversation I have had with them. As a matter of fact, an unnamed Reggae artist recently commented after a show "Man, people here just don't give a fuck do they? I mean, they just dance however they want." Damn right we do! It's that way because we encourage each other to. We don't stand around with our hands across our chest "trying" to look cool and judging others, we are cool, and we let our freak flags fly as we perpetually move to the music. We are the Dancing Denverites.
Taking us through originals like "I Feel Like Funkin' It Up," and "I Like It Like That," along with some Jazz/Funk covers of New Orleans classics, the bayou boogie didn't stop as sweat poured and drinks sloshed while we danced like no one but our closest friends were watching. Goddamn, Rebirth can get down! This band seems to have their instruments fused to their bodies and their playing seems to come as naturally as breathing for them. Not only does the Grammy nominating committee and Denver love Rebirth, but New Orleans does as well. They have had a standing Tuesday night gig at the famous Maple Leaf in their hometown for years, and if it's good enough for The Big Easy, it's good enough for me.
Energy: A
Musicianship: A
Stage Presence: B
Sound: B+
Set/Light Show: B-
Overall: B+

Brian Turk grew up in the shadow of the Catskill Mountains, near Woodstock, NY. He comes from a family of music lovers, audiopliles, Dead Heads and avid concert goers.The musical magic that can only be created in the Catsklills, both past and present, is what Brian cosiders the epicenter of his music addiction. The music of The Band, and most recently The Levon Helm Band, is the soundtrack of home for him. Brian's mother took him to his first concert at 5years old...it was Johnny Cash and Roseanne Cash at Jones Beach Amphitheatre. For Brian, music is a family affair. He feels the same way about live music...we all convene to celebrate together. Brian's writing life started when he wrote his favorite author, southern fiction writer Clyde Edgerton, a fan letter at age 13. When most kids were idolizing baseball players and television, he was worshipping writers and musicians. The two became friends and Clyde shared his craft with Brian. The next year Brian attended Duke University's Young Writers Camp. This is the extent, of what Brian considers, his "formal" training in writing. From then on his goal was to capture snapshots of life through words. Brian has been involved with live music in various facets over the years, and combined with his enthusiasm and love for Denver's music scene, he creates a vivid description of what he sees and hears. If you see him out at a show, dancing with a notebook in hand, say hello.