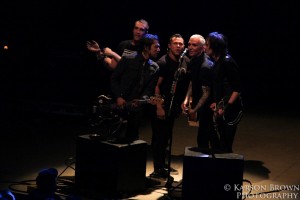 Photos By Karson Brown
The Scene: The Ogden Theatre was packed on Sunday with a varied mix of fans who had braved the cold. The theater had a settled, yet enthusiastic feel in the air with a gathering mainly of 30 to 40 year olds enjoying conversations and drinks. The crowd had a sort of sophistication that caught me, happily, a little off guard.
Opener: Eve 6. It has been a while since we've heard from Pop-Punk band, Eve 6. After a break up in 2004, a brief lineup change, and finally back to the original line up, they are now on tour promoting their 4th studio album Speak in Code released back in April.
The very tall lead signer, Max Collins, took to the stage with band mates Jon Siebels on Guitar and Tony Fagenson on Drums. The trio immediately had a new and energetic feel, like it was their first time on tour. Collins oozed charisma as he worked the stage and the crowd. Right away the set list of songs felt like a journey that we all took alongside the band with Collins offering the animation and narration. At times he would deliver poetic narratives professing the band's love for the Denver crowd, or asking the crowd to "allow for a vulnerable moment," before playing their 2001 hit "Here's to the Night."
When Collins and the band played a new single "Pick up the Pieces," he picked up an acoustic guitar and welcomed his stepfather on stage to play bass. The song was lively with an appealing hook and a fresh mellower sound. Eve 6 followed up this newbie with their other chart topper "Inside Out" to bring the journey full circle.
Eve 6 sounded vibrant and strong. Truth be told, radio play really doesn't do this band justice. Although they do sound great on radio, the live show captured their true strength..
Everclear: Entering the theater Sunday night, I noticed the simple sign on the door that said "Everclear will be signing autographs shortly after the show." I found this surprising. A band this big, a multi-platinum band with a following that spans several decades with numerous hits, typically does not sign autographs. I would soon find out how much Everclear loves their fans and how I'd be hoping for an autograph of my own.
Ready to rock, Art Alexakis, and crew busted onto the stage with a fan favorite "So Much for the Afterglow." An electrified and loving crowd greeted this alive and raw sounding band. A calm yet poised approach from Alexakis made me feel like I was watching and listening to an old friend up on stage…like I had known him in a past life. He and the band instantly had this charm and likeability that was infectious. Everclear was incredible at captivating the crowd.
Alexakis talked about how he had met some boys in a record store here in Denver and played "Fire Maple Song" from their debut album World of Noise released back in 1993 for those boys. Throughout the show he had many sort of one on one chats with the crowd. At one point he asked us what we, the fans, wanted to hear. He asked if we wanted to hear Everclear or a cover song. The question seemed to light a fire under the fans as most of the crowd was yelling out "Everclear" one fan caught Alexaskis' ear requesting they play "Freebird." The comradery was amusing and Alexaskis didn't seem to mind. He told the fan very bluntly "I'm 50, you want to f*ck with me, bring it on!" Of course it was all in fun and the band went on to play "Strawberry" from their Sparkle and Fade album and also played a gritty acoustic and lively cover of The Rolling Stones' "Far Away Eyes."
Everclear played hit after hit including radio favorites like, "Everything to Everyone," "AM Radio," "Santa Monica," and "Wonderful." They rounded out the night with an encore performance showcasing a bright Pop Punk sounding song "Be Careful What You Ask For" from their newest album Invisible Stars released in June of 2012. The sound was a bit of throw back to their catchy tunes from 1990's, but it also carried with it the fresh and authentic signature sound of Everclear.
Everclear's music is truly timeless and distinctive sounding. All of their hits and deeper cuts sounded, and felt, like they could have been written yesterday. They have that alternative edge with a Pop-Punk infused upbeat delivery. The band's adoration towards their fan is one that is forgotten by many artists today. Although, I wasn't able to get that autograph, I was happy to see all of the fans lined up winding around the floor of The Ogden waiting to meet this incredible band.
Energy: A-
Musicianship: A
Sound: A-
Stage Presence: B+
Set/Light Show: B
Overall: A-
Karson Brown is Colorado native, local concert photographer and travel photographer. An Art Institute of Colorado gradate, she has a strong background in photography and design. With a passion for nearly all genres of music, Karson has the vision and love for performances which is infused in her written word and photographs. Karson's connection and roots in Colorado keep her grounded and involved in local events and concerts.