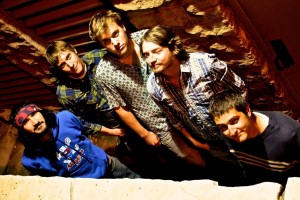 Why You Should Go:  Whiskey Tango uses their diverse musical tastes combined with their intense passion for music and telepathic communication to create a dynamic, highly energetic feel-good musical environment that has had audiences grooving throughout Colorado for years. Rooted in traditional bluegrass, their lives sets are explorations into the realms of Funk, Electronica, Reggae, and good ol' Rock and Roll.  Listen Up Denver!'s very own Brian Turk had this to say about the band in the upcoming issue of Relix magazine:
"Whiskey Tango is a fermented mash of bluegrass and jam distilled through the copper coils of rock, aged in psychedelica and served straight no chaser from a mason jar of fun. This five-piece from the five-points neighborhood of Denver has been inebriating Colorado audiences with their high energy new grass throw-downs, and now they have captured that whiskey fueled wild-west spirit on their debut album Groggy Mountain Mornings."
Groggy Mountain Mornings showcases the group's versatile songwriting skills while highlighting the multi-instrumental talents of the band.  Everyone who attends will get a free copy of the album along with many other giveaways throughout the night!  Do not miss this watershed moment for everybody's favorite local Jamgrass band, Whiskey Tango!
Venue: Quixotes True Blue, 314 E. 13th Ave, Denver, CO  – (303) 366-6492
Doors: 8:00 P.M.
*Price: $10.00
Click Here To Buy Tickets
*All prices are gathered from other sources and we are not responsible for mistakes or inconsistencies. They are intended only as guidelines. Please, always call the venue if you desire the most accurate information possible.