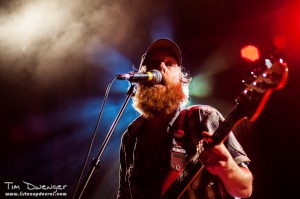 Photos by Kelly Hueseman & Tim Dwenger
Editor's Note: As you know, we usually include the openers as part of a review of a headlining act, but we have to give our props to local boys Yamn and The Congress for hitting the ball out of the park this past weekend on the big stage opening for jamband stalwarts, moe.  It's not easy task to win over a room full of inpatient jamband fans, but both these bands did it by playing their hearts out and we are proud they call Denver home!
The Scene: The sidewalks leading to The Ogden Theatre were packed this past weekend, not only because moe. was in town for a two-night run, but because a pair of Colorado's favorite bands were opening the shows. The lines to get in the door started early and, on both nights, the theater was packed from the pit to the balcony for the duration.
Night 1 moe.pener: Yamn. If you live in Colorado and you're a moe. fan, then you either are a Yamn fan or you should be. While this ultra-rock band got their start playing shows in Breckenridge, five years later they now call Denver home and are embraced by a huge following of beautiful women in bright colors, lovers of jam bands, and anyone looking to be lit up by an incredible light show and unique sound made for head-banging and sweaty dancing.
Yamn fans have been waiting all year for a healthy dose of Yamn's unique brand of progressive trance-fusion rock as the guys took some time off to write new tunes and welcome their new keyboard player, Paul Evans to the fold.  Evans, who recently relocated from Richmond, VA to join Yamn, has brought a sizzling energy to the intricate sound Yamn consistently puts forth. Evans shined onstage Friday night and fit like a glove across the stage from Brian (Bone) Hamilton, who, clad in glittering pants, didn't fail to give Yamn fans a variety of spiraling chord progressions.
All four members of Yamn contribute to vocals, but David "Dewey" Duart (Bass) and Adam Ebensberger (Drums) stood out as consistently leading the band through smooth transitions and funky grooves.  Not only did Yamn delight the crowd with old favorites and heady playing, but it was all creatively, and expertly, timed to a genius light show put on by their Lighting Designer Paul Whitehouse.  As their set drew to a close they brought down the house in a big way when Chuck Garvey (moe.) sat in on an explosive version of Mötley Crüe's power ballad, "Home Sweet Home." It's great to see Yamn right back in the saddle of huge rock shows where they belong, and if you're in the mountains for New Year's Eve, you can catch Yamn at the Vail Ale House on New Year's Eve.
Night 2 moe.pener: The Congress. At the stroke of 9 The Congress took the stage and ripped into a set that no doubt earned them an invitation back.  They kicked things off with the slightly poppy and very catchy "Distance," and with the first note, heads turned and started to bob as Jonathan Meadows held down the low end on his big red Fender bass and poured himself into the vocals.  While Meadows powerful tenor voice would be the highlight of many bands, each member of this trio has the chops to hold down his own band.  From Mark Levy's rock-solid backbeat to Scott Lane's guitar heroics, these guys work together like seasoned veterans to produce a sound that is one part Rock-n-Roll, one part Country, and one part Jamband.
When they weren't tearing through the backwoods stomp of "Jonah Gideon," or the monster jam vehicle "Reason," they showed their depth as a band by slowing things up a bit for the melodic and laid back "Echoes" that allowed a room full of new fans to see the softer side of the band even if it was just for a moment.  While their original material is some of the best on the Denver scene, The Congress also shines through their masterful interpretations of old favorites.  They have been known to bust out "Every Little Thing She Does Is Magic" by The Police, "Killing Me Softly" by Roberta Flack, and even Fleetwood Mac's "Dreams," but on Saturday night they dove deep into the Soul and R&B archives and pulled out the Curtis Mayfield classic "People Get Ready."  As usual, Meadows voice shined through and I saw people around the room looking at each other as if to say "For real? They are nailing this!"
As the clock pushed toward 9:45 the throbbing intro to "Walls" kicked off the last tune of a much to short set and as the spacey tune ebbed and surged I was struck by how much it sounded like late era Beatles.  The fab four might have used some psychedelic studio tricks to send it even further out into "the beyond," but this tune is as shining example of how good The Congress really are as both songwriters, and performers.  We can't wait to see what they do with some actual Beatles tunes on Friday night when they serve as one of the anchor bands for Come Together: A Denver Beatles Experience at Stoney's Bar and Grill.  You should join us . . . tickets are only $10 at the door!
– Review by Kelly Hueseman & Tim Dwenger