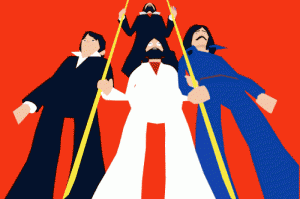 Daniel Watters of The Oak Creek Band sat down with Listen Up Denver! back in November to talk a bit about "Come Together: A Denver Beatles Experience."  The event, which takes place tonight at Stoney's Bar and Grill, will feature  The Oak Creek Band, The Congress, The Foot., Parlor Pickers, and Jaden Carlson, along with members of Mountain Standard Time, Kinetix, Fox Street Allstars, Atomga, Trout Steak Revival, and Olora Bros.  This is a line-up you will not want to miss as they come together to play some of the most popular songs of all time!!!  Check out what Watters had to say to get yourself warmed up for the evening!
Listen Up Denver!: We're definitely looking forward to this Beatles night you guys are putting together.
Dan Waters: Yeah, us too. We're stoked.
LUD!: So where did the idea for this thing come about?
DW: Well, we're Beatles fanatics. We've always loved them and we were The Beatles for Halloween last year and that kind of sparked the idea. We've been involved with the 90's Night so we just kind of thought, well, everybody loves The Beatles so why don't we get a bunch of Denver bands to do their own take on The Beatles, and then we can all come together and sing Beatles songs.
LUD!: It sounds like a great idea. What's the structure for the night? I know you've got several bands participating.
DW: Yeah, so the first set is each band doing some songs on their own. The bands are going to be back to back. We'll start out the night with four or five songs then The Congress will come up and do a couple songs in their own style.  Then the second set is going to be more of a John Lennon tribute because the day of the show is the day before he was murdered, and we're going to mix and match the bands a little bit more in the second set. So, that's the format.
LUD!: So, have you guys started working on collaborations yet?
DW: Yeah, we've got it all mapped out. We're going to play with the Congress, which we're super pumped on and create a little super band. So, Oak Creek and Congress are going to be the house band for everybody later in the evening.
LUD!: That makes sense. Do you want to talk about any of the collaborations that you've got mapped out, or do you want to leave it all as a surprise?
DW: We'll have Jeff from The Foot. come up and sing some crazy John songs later on, and we'll have Jonah from The Whales come up and play with The Congress on a couple things and Oak Creek and Congress are going to be in cahoots the whole show.  Ryan Ebarb form Mountain Standard Time is going to be all over the place collaborating with different bands and Chris from Fox Street Allstars is going to be playing keys all around. It's kind of all here and there but it should be fun.
LUD!: Excellent, I'm sure it's going to go over well. So, you guys have been The Beatles for Halloween the last two years?
DW: We did, we did. [laughs]
LUD!: Recycling Halloween costumes? [laughs]
DW: Actually no, we should have. Last year we did Sgt. Pepper's and we all had the crazy Sgt. Pepper's outfits.  This year Steve was early 60's Paul, and Jen and I were John and Yoko but it was more kind of practice for this.
LUD!: Did you do a whole set of Beatles material on Halloween? How did it go?
DW: It went great. We started off with a set of our original stuff and then we finished off with a whole set of Beatles stuff. It was a blast.
LUD!: Excellent, what songs did you touch on that night?
DW: We did "Come Together" obviously, we did "Dig A Pony," "Dear Prudence," "Eleanor Rigby," "Day Tripper," "Oh! Darling," "Ob La Di Ob La Da."
Check out the video below for Oak Creek's take on "Oh! Darling" and Come Together to celebrate The Beatles tonight at Stoney's Bar & Grill!
Music has always been a part of my life. It probably all started listening to old Grateful Dead, Peter Paul & Mary, and Simon & Garfunkel records that my parents had, but it wasn't long before they were taking me to concerts like Starship, Crosby, Stills & Nash, and Huey Lewis & The News. I got the bug to write about music after reviewing an Eric Clapton concert for a creative writing project in high school but didn't really take it up seriously until 2002. Since then I have published countless articles in The Marquee Magazine and done some work for Jambase.com, SPIN Magazine, and various other outlets. I started Listen Up Denver! as a way to share the music information that is constantly spilling out of my head with people who care. Please enjoy!