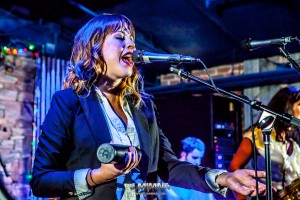 Photos by Jim Mimna & Ty Hyten
The Scene: Stoney's Bar and Grill may be better known for its TVs, plastic pitchers and sports loving crowd, but it's stage hosted some of the best musicians in Denver last Friday night when Come Together: A Denver Beatles Experience brought together over 20 Mile High musicians, and countless smiling faces who sang as one all night long. There was no way you could be in that room and not be overpowered by your own personal connection to the songs, or the obvious connection the musicians had to them.  I have to say, this show was way beyond my expectations. I have seen a few "tribute" shows this year that involved groups of musicians playing another artists songs, and although they were all great, this one took the cake for me. The musicianship was stellar across the board and there was a natural flow to the night. These guys may play with different bands, but they sure were on the same page on Friday.
So, just who were the daring musicians who took on the task of recreating the songs of the most successful band to have every graced the planet? Well, it all started with Oak Creek who simply go bonkers for The Beatles. They realized if they were going to "cover" songs of this caliber they better bring their A-game and invite the best musicians they know to join in on the celebration. Those invitations went out to members of some of the most up and coming and fun bands in town:  The Congress, Fox Street Allstars, Kinetix, Ableminds, The Whales, The Foot., ATOMGA, Mountain Standard Time, Trout Steak Revival and The Olora Brothers, along with 11 year old powerhouse Jaden Carlson. Not only did this roster take on the material, they took it in, took it home, took it to heart and then gave it everything they had. I left feeling like I truly experienced the music of The Beatles…not just heard some familiar songs.
Come Together: The Oak Creek Band started the night off with "Get Back," joined by Chris Speasmaker form the Fox Streeet Allstars on keys, and the crowd moved forward, drawn towards the stage. I knew right away it was going to be one hell of a night. Jonathan Meadows and Scott Lane from The Congress jumped into the night with a high energy "Day Tripper" and as Lane sported his grandfathers long toggle clasped trench coat his guitar rang like lightning bolts through the London Fog. An early highlight of the show came when Jenna Watters took the reigns of "Oh Darling!" and blew the room away.
Come Together was performed on the anniversary eve of John Lennon's tragic murder and "Let It Be" had us all thinking of him, that is if we weren't talking about Jaden Carlson. I can't tell you how many people were standing on their tip toes to catch a glimpse of this talented young woman because they weren't believing the buzz going through the crowd. Heads turned to friends ears whispering the words "Yeah, I just heard she's only 11." After "Let It Be," everyone left Jaden alone on the stage, and she finger-picked and sang her way through "Blackbird" in such a moving way that you could hear a pin drop. Everyone was silent, staring at the stage, captivated by the beauty of the performance. After Jaden played the last note, and everyone came out of their trance, she exited the stage to some of the heartiest applause of the night.
The first Beatles song I have a memory connected to is "Rocky Raccoon." I was six years old and my mom and I were having dinner at a Ground Round somewhere in the borough of Queens, NY. There was a guy playing an acoustic guitar and he dedicated the song to me, because I was the only one in the place up, dancing, and paying attention to the music.  That was also one of the first time I looked a musician in the eye and felt a connection through a mutual love of sound. No, I wasn't your average kid, and yes, I have a hell of a memory.  Grub Street Writer's Andy Palmer came out in a Dashiki and "Lennon Glasses" to lend his gruff growl to the song, not long before he and his pregnant wife left Stoney's so she could give birth to their second child. I guess their daughter just couldn't take it anymore and wanted to come out and see what all this noise was about. I love babies, and I love music, and when I see pregnant mothers and little children experiencing it, I can't help but think about how much better that child's life is going to be because they were exposed to the beauty song. Welcome to the world little Elodie!
The Foot. kicked us right in our asses with a screaming rendition of "Helter Skelter" and The Congress was back in session for "I've Got A Feeling." Jordan Linit from Kinetix and Ableminds joined in with The Congress on "My Guitar Gently Weeps," and as he shredded a monster solo you could tell that he was loving every minute of it.  Apparently Linit has been trying to talk Harrison's epic ballad into setlist of several bands he's played with over the years to no avail.  It was great to see him getting to live out a fantasy he had no doubt played through in his head many times. He took his solos at the front of the stage like an arena rock god, coyly smiling, knowing he was hitting it out of the ballpark. The first set ended with Oak Creek, The Congress, Aubrie Hamrick, Chris Speasmaker and The Olora Brothers saying "Hello Goodbye."
After a brief break set break, Oak Creek played the song most associated with Lennon, "Imagine," and the Watters couple flowed through the song with grace. Linit and his guitar came back out for "Dear Prudence," and once again slayed us with his soloing skills. Something must have put the fire in these musicians during set break, because they came in hot. The Whales' Jonah Wisneski joined The Congress for a raging "Don't Let Me Down" that was not only powerfully played, but wonderfully sung.
The Beatles have some very dramatic and intricate material, and "I Am The Walrus" was a whirlwind of sound. Jeff McCollister from The Foot. let his hair fly has he dug into the lyrics with wild eyed intent…at one moment I swear he became The Eggman. By now both the crowd and the musicians were at full throttle and "Come Together" was felt like an explosion as the crowd shimmied and shook from the force, singing along and throwing their hands in the air. The night came to close with a full stage of musicians and a beautiful version of "Hey Jude" that featured strings and the whole crowd singing along at the top of our lungs.  It was a wonderful and fitting way to wrap up a beautifully executed tribute to one of the best bands in the history of rock and roll.
Energy: A-
Musicianship: A
Sound: A-
Stage Presence: A
Set/Light Show: C+
Overall: A
Brian Turk grew up in the shadow of the Catskill Mountains, near Woodstock, NY. He comes from a family of music lovers, audiopliles, Dead Heads and avid concert goers.The musical magic that can only be created in the Catsklills, both past and present, is what Brian cosiders the epicenter of his music addiction. The music of The Band, and most recently The Levon Helm Band, is the soundtrack of home for him. Brian's mother took him to his first concert at 5years old...it was Johnny Cash and Roseanne Cash at Jones Beach Amphitheatre. For Brian, music is a family affair. He feels the same way about live music...we all convene to celebrate together. Brian's writing life started when he wrote his favorite author, southern fiction writer Clyde Edgerton, a fan letter at age 13. When most kids were idolizing baseball players and television, he was worshipping writers and musicians. The two became friends and Clyde shared his craft with Brian. The next year Brian attended Duke University's Young Writers Camp. This is the extent, of what Brian considers, his "formal" training in writing. From then on his goal was to capture snapshots of life through words. Brian has been involved with live music in various facets over the years, and combined with his enthusiasm and love for Denver's music scene, he creates a vivid description of what he sees and hears. If you see him out at a show, dancing with a notebook in hand, say hello.