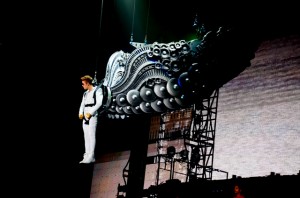 Photos by Todd Radunsky & Tim Dwenger
Editor's Note: Monday night saw one of the most anticipated concerts of the year hit the Pepsi Center and it wasn't some veteran performer taking the stage, it was a teenager by the name of Justin Bieber.  While I wouldn't have gone to this show on my own, I have two nephews who were thrilled at the prospect of seeing this teen idol live and in the flesh, so I bought tickets the instant they went on-sale in June and wrapped them up for Christmas.
The crowd that swarmed the arena was 80% teenage girls and the shrieking that filled the air at the very mention of the words "Justin" or "Bieber" was deafening.  Frankly, it reminded me of some of the footage I've seen of The Beatles in the 60's as they ran through screaming mobs of young women.  The production value of the show was top notch and it's interesting to note that the Bieber camp hired Chris Kuroda, lighting director of the band Phish, to work the lights on this tour and, as a veteran of many Phish shows, I can tell you that his stamp was all over Monday nights performance…the lights were fantastic!  On another Phish related note, I heard guitarist Dan Kanter tease "Sand" midway through the show.  I doubt many picked up on it, but I know there were a few of us.
Aside from that I can't do this show much justice so I'm going to let my nephews take over from here and give you a view of the concert that only they could.  
– Tim Dwenger, Editor
Christmas morning we were so excited to unwrap our presents. Then on about our 18th present we both opened presents from Aunt Lindsay and Uncle Tim at the same time. They were Justin Bieber tickets!!! We gave them lots of hugs. The only weird part was that Aunt Lindsay couldn't take us to the concert because she is 8 months pregnant and since our Dad would be in AR that night on business, Uncle Tim and our mom decided to go with us to the concert.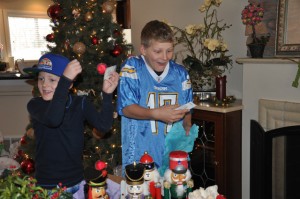 We walked into the Pepsi center and heard Carly Rae Jepsen's last song "Call Me Maybe." Then she said Justin Bieber was coming on and all the girls started screaming. It really hurt our ears. Thank goodness our mom brought earplugs for the concert. 10 minutes before Justin was coming on there was a count-down on the jumbo-tron and every minute the girls would scream. We put our earplugs in when there was 2 minutes left. Then Justin came on the stage with huge angel wings and flew down to the stage. The music was so loud it made our hearts beat really fast.
On one song Justin and all the dancers popped up through the floor. It was really cool.  On another song it looked like he dove into water when he dove into fog on the stage, but it was really film of Justin swimming. He sounded older than when he started but we still like his voice. The coolest part was when he played "Fall" on his guitar by himself in a cage that went up and over the crowd. He danced almost every song and he was really good but towards the end he said he was tired from running around in the altitude. It made the crowd laugh. One thing we don't like is all of his new tattoos, but we really liked the concert.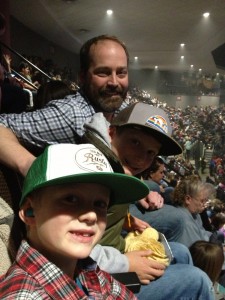 We can't believe that we were so lucky to go to see Justin Bieber!  It sold out in 1 minute! Our Aunt and Uncle rock!!!!!
Sawyer & Truman Inglis are 10 and 7 respectively and they are growing up right here in Denver Colorado. When they aren't in school they love video games, bouncing on their trampoline, and being rambunctious.