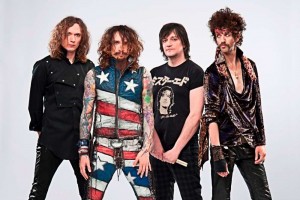 Why You Should Go: With outrageous stage antics that include gaudy leotards stolen from Steven Tyler's wardrobe, leaps and splits borrowed from David Lee Roth, and an ear-piercing falsetto copped from Freddie Mercury himself, England's The Darkness is centered around irrepressible frontman Justin Hawkins (vocals/guitars/keyboards).  Hawkins, with his guitar-playing baby brother Dan, bassist Frankie Poullain, and drummer Ed Graham, have single-handedly resurrected the rather unfashionable sounds and attitudes of late-'70s hard rock for an unsuspecting generation. Following the demise of an earlier, conspicuously synth pop-based outfit named Empire, the Hawkins brothers sowed the seeds of what would become The Darkness at an impromptu karaoke session on New Year's Eve 1999. Justin's rapturous rendition of Queen's "Bohemian Rhapsody" showed them the way, and the suitably dramatic name of The Darkness was chosen shortly after the arrival of Poullain and Graham.
The multi-talented elder Hawkins led the quartet as the group spent the next two years slogging it out in London's pub circuit. Though they were immediately singled out as a joke by the notoriously vicious British press, The Darkness' high-energy sets, remarkably catchy material, and unapologetic worship of old-school rock & roll bombast gradually earned them a fanatical following based on simple word of mouth.
Venue: Summit Music Hall 1902 Blake St. Denver, CO 80202 303-487-0111
Doors: 8:00 P.M.
*Price: Advance Ticket Price: $25 Day Of Show Price: $28
Click Here To Purchase Tickets
*All prices are gathered from other sources and we are not responsible for mistakes or inconsistencies. They are intended only as guidelines. Please, always call the venue if you desire the most accurate information possible.