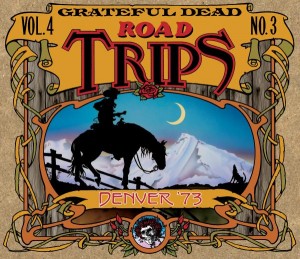 The Grateful Dead's Road Trip series will return to 1973 for its latest installment. Road Trips Vol. 4, No. 3 presents the group's performance at the Denver Coliseum on November 21, 1973 (along with some bonus material from the previous night). These performances showcased dome of the material on Wake of the Flood the first studio album on the group's own label, which had been released the previous month.
As Blair Jackson explains, "The first set of 11/21/73 is a rock-solid and varied collection of tunes, including several "western" numbers ("Jack Straw," "Me and My Uncle," "Mexicali Blues"), a lovely "Brokedown Palace" (remember when that could turn up almost anywhere in a show?), a lilting and crystalline "Here Comes Sunshine" and a beautifully developed "Weather Report Suite"—already a monumental song after just three months!
"The second set is where the fireworks really go off, however. It's dominated by a spectacular hour-long medley that begins with "Half-Step," segues into "Playing in the Band," travels 715 miles due south for a little gunplay in "El Paso," dips back into the "Playing" jam for spell, then into a superb "Wharf Rat," back to a dynamic "Playing" reprise, and is topped off by one of the best versions of "Morning Dew" from this period. Nice! There's plenty of show after that, too, with "Truckin'" rolling into a rare "Nobody's Fault But Mine," then "Goin' Down the Road" and "Saturday Night" as the rockin' capper. "Uncle John's" is the perfect anthemic encore."
Road Trips Vol. 4, No. 3 also includes a sequence from the prior evening that begins with "Truckin'," extends into "The Other One," and concludes with "Stella Blue."

Music has always been a part of my life. It probably all started listening to old Grateful Dead, Peter Paul & Mary, and Simon & Garfunkel records that my parents had, but it wasn't long before they were taking me to concerts like Starship, Crosby, Stills & Nash, and Huey Lewis & The News. I got the bug to write about music after reviewing an Eric Clapton concert for a creative writing project in high school but didn't really take it up seriously until 2002. Since then I have published countless articles in The Marquee Magazine and done some work for Jambase.com, SPIN Magazine, and various other outlets. I started Listen Up Denver! as a way to share the music information that is constantly spilling out of my head with people who care. Please enjoy!