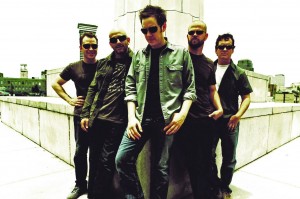 Why You Should Go: Galactic was formed eighteen years ago in New Orleans, and they cut their teeth playing the biggest party in America: Mardi Gras, when the town shuts down entirely to celebrate.  The members of Galactic (Ben Ellman, harps and horns; Robert Mercurio, bass; Stanton Moore, drums and percussion; Jeff Raines, guitar; Rich Vogel, keyboards) draw on the skills, stamina, and funk they deploy in the all-night party of their annual Lundi Gras show that goes till sunrise and leads sleeplessly into Mardi Gras day.  The band will be fresh off all this Mardi Gras energy when they come to Denver this Saturday.
Galactic is a collaborative band with a unique format. It's a stable quintet that plays together with high musicianship. They've been together so long they're telepathic. But though the band hasn't had a lead singer for years, neither is it purely an instrumental group. Galactic is part of a diverse community of musicians, and in their own studio they have the luxury of experimenting. So on their albums and onstage, they do something that's unusual in rock but not so controversial an idea in, say, Hip-Hop: they create something that's a little like a revue, a virtual show featuring different vocalists (mostly from New Orleans) and instrumental soloists each taking their turn on stage in the Galactic sound universe.  Case in point, the band will be joined by Corey Glover of Living Colour this Saturday.  Also of particular note is the band opening up for Galactic, Monophonics, whose sizzling, psychedelic San Francisco funk has been captivating crowds for some time now.  If you've never been to Mardi Gras this is about as close as you can get without actually going to The Big Easy. So, whether you love Funk, New Orleans, the San Francisco sound, or the whole pot of gumbo, this is a must see show!
Venue: The Ogden Theatre, 935 E. Colfax Ave Denver, CO 80218 – 303-832-1874
Doors: 7:00 P.M. Showtime at 8:00 P.M.
*Price: ADV: $29.75 DoS: $35.00
Click Here To Purchase Tickets
*All prices are gathered from other sources and we are not responsible for mistakes or inconsistencies. They are intended only as guidelines. Please, always call the venue if you desire the most accurate information possible.