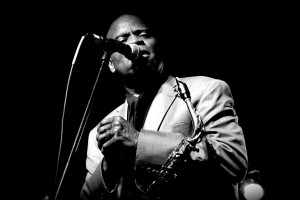 Photos by Johne Edge
The Scene: Not exactly the funkiest white girl you'll ever meet, I had spent the day preparing for the show by singing "Get your funk on!" to the tune of Missy Elliot's "Get Your Freak On" and listening to James Brown's "It's Too Funky in Here." I figured if it was too funky for one of the founding fathers of funk (say that ten times fast), then I would be sufficiently in the groove for the "98% Funky Stuff" that Maceo Parker was about to bring my way.
As Parker's legendary career has spanned the last 5 decades, I was surprised to see how young the demographic was as I wandered around, eyeing up the suspiciously chilled-out crowd at Cervantes' Masterpiece Ballroom. Despite the sneaky youngsters grinding side-stage, there were enough older folks getting down in the crowd to keep the average age at a solid 32. (NOTE: absolutely no math went into the conclusion of that number).
Opener: Euforquestra. Turns out I needn't have worried about pre-funking before the show because Euforquestra warmed up the crowd with a perfect blend of Reggae, Samba, Funk, Jazz, and Afrobeat. As more and more people filtered into the venue, these Colorado-by-way-of-Iowa locals jammed out David Bowie's "Let's Dance" with a big-band feel. Recognizing a fever in the crowd, Austin Zaletel busted out the cowbell, letting The Motet's Matt Pitts take over on the sax. Transitioning seamlessly through different continents of music, you would never guess that the band has been under massive reconstruction recently. Euforquestra's other sax player is temporarily out on baby leave, and Boulder music fans might recognize Scott Mast as the new percussionist in the group. The band also recently welcomed new drummer Craig Babineau, allowing their bassist-turned-drummer to return to his post on the bass.
Zaletel describes the changes as "a kind of rebirth" for the band, saying that they have plans to head to the studio early this summer to capture the band's new energy.  "It's a pretty exciting time for all of us…and we are all anticipating the coming days/months/years."  For those as interested in what's to come as I am, check out their website for tour dates and band info.
Maceo Parker: While most casual concert goers typically use the breaks in between performers as a time to grab a beer, use the bathroom, or head outside for a smoke, you can always find the true fans using the opportunity to stake out their spot upfront and anxiously await their beloved artist. As this was my first time seeing Maceo live, I decided to position myself amongst the veterans to see if I could get some of their insight into the Maceo Experience. This is how I met "Mamacita."
Mamacita, whose real name I later learned but will not share for anonymity purposes, told me how the first time she saw Maceo play was last August at Cervantes', the same day she got off of probation. She gushed that seeing Maceo, whom she refers to as "The Grandfather of Love," made her feel like she was born again-inspiring her sobriety. As the Cervantes' crew finished setting up and Maceo and his band took to the stage, another excited fan joined the conversation to tell me that I was about to feel "loved and expanded" by the performance. Well, there's not much I can say in response to that now is there?
Maceo Parker's career took off in the '60s when he, and drummer brother Marvin, became integral members of James Brown's band. He has since played with the likes of George Clinton and Prince and has collaborated with artists like The Red Hot Chili Peppers and Dave Matthews. Now, over 20 years into his solo career, Maceo is a living legend, keeping funk alive with relentless touring.
The 70-year-old "Grandfather of Love" hit the stage with impressive energy, starting off the show with his version of "Off the Hook" that lead into James Brown's "Papa's Got a Brand New Bag."  In the style of old school showmanship, he thanked the opener and got the crowd involved by pretending to forget Euforquestra's name. Mamacita just about died of happiness as Maceo held out his mic for her to "help" him with the pronunciation.
There are few things less endearing than when musicians take themselves too seriously, but you can't help but love a man who pretty much pioneered the funk bus (it doesn't have quite the same ring to it as "soul train" does it?) and yet scats something into the microphone like "Boop, pat…boop pat! Boop, pat…boop pat! Come on now, I don't even know what it means!"
Demonstrating his musical aptitude on sax, vocals, and even jazz flute, Maceo and his band moved us fluidly in and out of Funk, Smooth Jazz, Hip-Hop, and Soul and even jammed out a 10-minute version of Marvin Gaye's "Let's Get It On." Known for his long shows, we were not let down as Maceo charged ahead until the clock struck two.
Now, I'm not sure I would say that I left Cervantes' feeling "loved and expanded," but as a Maceo novice, I was definitely funking schooled.
Energy:  A+
Musicianship: A+
Sound: B
Stage Presence:  A+
Set/Light Show: A
Overall: A
Professional Dabbler. Promoter of Music, art, travel, life. If it's interesting, I'm interested.