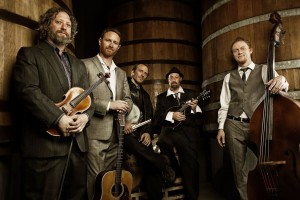 For the last eight years Fort Collins based "High Octane Dance-Grass" band Whitewater Ramble have graced over 900 stages while steadily building a solid fan base throughout the country.  It's been almost three years since they released their first studio album, All Night Drive but the wait is nearly over.  On the 26th of this month, Roots & Groove, the second release from the front range ramblers will hit the street.
"We were thinking about doing a double disc project; one side, kind of roots and Americana, with the other side being really groovy, Disco-dance type of stuff," said singer and mandolin player Patrick Sites in a recent interview with Listen Up Denver! "Eventually that proved to be a little more work than we had time for but this project is a really big sound for us. We put guests in the right places and are really thrilled with how it turned out. Everything came together quickly and perfectly. Each song shines brightly in the right light."
As they did with All Night Drive, the band brought out musical powerhouse Tim Carbone from Railroad Earth to produce the album. "He [Carbone] produced our first one and it was really a no-brainer for us to bring him in again. Just because we have made one studio album, it doesn't mean we are experts on the process," admitted Sites. "We were so comfortable with him that it made for very little risk. This time we gave him more to work with which allowed him to be even more creative." In addition to producing, Carbone is also featured on the guitar on multiple tracks including the reggae influenced "Standard Deviation" that also showcases the bright horns of Colorado group Euforquestra.
"We approached this album in entirely different way from our first," Sites explained. "On All Night Drive we wanted to get some hot special guests so we called some friends we had in the industry, turned on the microphones and kind of told them to just shred away" he said. "On this album we came at it in a different way. We thought about the songs first. We would look at each song and discuss different sounds or tones that might fit. We wanted to focus more on the song and then find a guest that would be best suited to support that specific structure. "
While the music on Roots & Groove flirts with several different genres, it is still decidedly a Bluegrass record and Sites went on to open up about a little personal project that is hidden within the whole. "I kind of have this secret project that I just shared with Tim [Carbone]. He wasn't aware of it during the recording of All Night Drive" Sites said. "I'm a big fan of the mid-eighteen hundred era traditional Bluegrass murder ballads. I've always been drawn to them. In that fashion, I have written this raw, gritty short story about a man forlorn with love. The story takes place in the Wild West and the man makes a deal with the Devil under dire circumstances then fights his way to redemption. I have written a number of songs that go along with the story and two of them appear on All Night Drive and another three are on Roots & Groove. If you listen closely you will be able to hear me mention certain recurring themes and names from the short story." If you aren't able to pick up on what songs Sites is referring to, you may just have to wait until he releases what he called a sort of "Best Of" project which will include all of the songs he has been writing to tell this tale.
In the two years since the band released their first studio album many lessons have been learned while huge changes have been made. "This is a learning process," he said.  "As a person that has probably screwed up more things than I have gotten right, I'm constantly learning and picking up new wisdom from this industry.  The last time we released a record I was basically handling everything. I was doing booking, press; I was kind of the one-stop-shop. Since then we have hired a booking agent and are working with many more people. It helps in so many ways to have a team of people that actually believe in our product to help and stand behind us. Now we have more time to actually grow and crank out material. I finally get to just nerd out on the mandolin and can focus on the creative process."
It seems as if things for Whitewater Ramble are falling into place as smoothly as a band in their position could hope for. Many people believe that if you can make it in the Colorado music scene you will have a much better chance at succeeding nationwide and if all continues to go as planned, 2013 should offer many more great opportunities for Whitewater Ramble both in Colorado and around the country. "The band is in a really good spot right now as far as personalities go. We are all just really motivated and we are trying really hard to make sure we get this album listened to. We have more connections now than we had when we released the last project. There is a full blown publicist on board who will help us to spread our sound outside of Colorado," Sites said. "The music scene is very saturated and competitive out here. We are now trying to focus on building a fan base nationally. Our main goal for 2013 is to target specific markets. We intend to make it more than just a show when we arrive in your town. We are going to go out of our way to make sure that every time we perform it's a massive party."
If it's a party you want, then you will get your chance on March 29th inside the Wildflower Pavilion at Planet Bluegrass Ranch when Whitewater Ramble will bless the Front Range with an album release party that no one should miss. It will mark a new chapter and highlight all of the accomplishments by one of the hardest working bands on the Colorado music scene: Whitewater Ramble.
"Fast As Lightning" – From The New Album Roots & Groove HD by Tvision from Whitewater Ramble on Vimeo.

I rode my skateboard from school in 7th grade to my buddy Vince's house where he put on the song "Perfect Government" by NOFX and I was hooked. The next day I bought the album Duh by Lagwagon. The next year I saw Against Me! at the Starlight Theater in Fort Collins, my mom dropped me off. I've since devoted every waking hour to anything done with passion. My speakerbox bumps everything from Lil' Wayne to Pablo Casals. I was never very good at making music, but I am damn good at listening to it. I've been filling up yellow notepads with random thoughts and misspelled words for as long as I can remember. I enjoy whiskey of all sorts, Newport cigarettes and the company of my family. I've got an addiction to run-on sentences that I'll probably never cure. A solid handshake with a stranger who has become a friend over a few beers means the world to me. You'll often find me wide eyed and wandering with an ear to ear grin. I live for funky break beats and spreading the love.