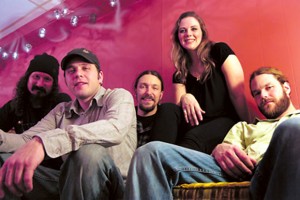 The Scene: The crowd gathering outside of the Fox Theater this past Saturday was an eclectic mix of people.  I knew right away that we were in store for a lot more than a traditional bluegrass concert. As I walked up to the venue I could smell an overwhelming aroma of patchouli and other herbs. The long flowing sun dresses, blank stares and dread locked heads were out in full force.  I arrived at the Fox around 9:30 to a still growing line of excited concert goers.  Good Gravy was underway by the time I finally made it inside. The room was packed wall to wall with dancers and smiling faces. I'm not sure if it was entirely sold out, but it was surely close.  Ages ranged from hip college kids in flat bill baseball caps to grey hairs wearing tie-dye t-shirts that were likely older than me.  Overall spirits were high and everyone was ready for good old fashioned barn-burner.
Opener: Good Gravy.  Unfortunately I missed the first few songs from up and coming Fort Collins based jam-grass band Good Gravy. Labeling these guys simply "bluegrass" would be a huge understatement. Their sound is a fresh and interesting take on an old style of music. I was taken aback at first by the sight of 2 drum sets and a keyboard, but within no time I was tapping my feet and bobbing my head to the high energy jams. By combining world beats, synthesized sounds and traditional string instruments, these guys were able to create a sound like no other in the genre. The electric mandolin backed by bongos and a keyboard provided a great platform for lyrics about wandering, ramblin' and drinking whiskey.   It was a full on dance party up until the last note.  Each song stretched anywhere between 5 and 10 minutes with improv jams thrown in to spice it up a little bit. With a nationwide tour about to begin, I highly recommend you check Good Gravy out whether you are a fan of jam band music or not. I get the feeling we will be hearing good things in the future about these hard working rockers.
Note: Good Gravy's debut album is available for free download here.
Cornmeal: Cornmeal came out around 10:45 to a massive eruption from the throng of fans. It was obvious that these Jam-Grass veterans have a great following along the Front Range. All walks of life were represented, and you could feel the energy in the room grow as they took the stage. I knew I was in for a treat and these folks were not going to disappoint.
They got right down to business with a spacey, psychedelic jam geared to get feet moving and the groove going.  It was clear to me that they have been performing together as a band for quite some time.  They segued from the psychedelic opener into a bluegrass number by the name of "Oh Leah Lee."  At this point the room was completely packed. I attempted to make my way to the front of the crowd and quickly changed my mind as soon as I remembered how hot it gets in the Fox with an audience of this size. Next, they played the ramblers anthem "This Old Town," and from there on out it was a ripping onslaught of psychedelic bluegrass that only Cornmeal could pull off.
It's safe to say I fell in Love with Allie Krall and the way she is able to work that violin. They are truly masters of going from extended improvisational jams right into a boot stomping traditional number. With songs lasting anywhere between 5 and 12 minutes, it was hard at times to determine when one ended and the other began. The next song I recognized was the inspirational ballad "Rain Your Light." This was a nice change of pace from the faster songs they had previously played. There was no denying the musical ability on stage. From this song they went into the upbeat number named "Dirty Rag." Wavy Dave on the banjo really brought this one home with the familiar twang of his voice along with his clean and precise finger picking.
At this point the entire crowd was dialed in and either cutting a rug or tapping their feet.  The booze was flowing freely and by the smell of things it was clear that the Fox's security was a little more relaxed than I have seen them in the past.
I wasn't familiar with all of the songs they played this past Saturday, but one stuck out above the rest. After another feel good song I didn't know the name of, they started in on the only cover I recognized from the night. It was a great surprise to me and the rest of the audience when the words "Shake it, shake it, Sugaree." rang out through the sound system. It was a real treat and they nailed The Grateful Dead classic.  They stretched "Sugaree" out for what had to be at least 10 minutes. This was most definitely the highlight of my night.
It was now nearing 1 am and they had managed to work their way back into a deep psychedelic jam. The set was put together really well ending almost exactly how it had started. They took the audience on an amazing journey through many styles of music, while never leaving their roots in traditional bluegrass to the side. Cornmeal is a band everyone should get out to see at least once. They have been doing it for over 10 years now and I don't see them going anywhere soon. The chemistry they have together and their ability to charm a crowd is a testament to their staying power in the hippie-jam-grass genre.
Energy: A-
Sound: A
Musicianship: A
Stage Presence: B-
Set/Light Show: C
Overall: B+
– Story by Levi Macy

I rode my skateboard from school in 7th grade to my buddy Vince's house where he put on the song "Perfect Government" by NOFX and I was hooked. The next day I bought the album Duh by Lagwagon. The next year I saw Against Me! at the Starlight Theater in Fort Collins, my mom dropped me off. I've since devoted every waking hour to anything done with passion. My speakerbox bumps everything from Lil' Wayne to Pablo Casals. I was never very good at making music, but I am damn good at listening to it. I've been filling up yellow notepads with random thoughts and misspelled words for as long as I can remember. I enjoy whiskey of all sorts, Newport cigarettes and the company of my family. I've got an addiction to run-on sentences that I'll probably never cure. A solid handshake with a stranger who has become a friend over a few beers means the world to me. You'll often find me wide eyed and wandering with an ear to ear grin. I live for funky break beats and spreading the love.