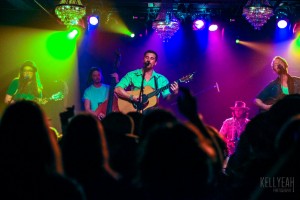 Photos by Kelly Hueseman
The Scene: Being around at the beginning, before a band makes it big, is a desire shared by all music lovers and Colorado is no stranger to this phenomena. I've always been a big believer that if you can make a name for yourself in Colorado then you can make it almost anywhere. With Fruition, we won't know for sure until maybe a year from now, but last week they made a real case for themselves at Cervantes' when they brought their West Coast Folk-Rock String Band sound to the Front Range for a three night stand.
I first discovered Fruition last summer at the always amazing Yarmony Grass Festival. Without a doubt they made the entire festival a memorable experience for me along with many others. So, it was no surprise that there were so many recognizable faces filing into the venue clearly pumped up with anticipation for the one of the kind sound of this Portland based band.
Fruition: Keeping a crowd rocking and rolling at one venue for one night is a task in and of itself. Two nights is certainly not an easy task. Maintaining that steam, upholding that stamina and coming out even stronger on a third night is without a doubt a task worth applauding. The fact that Fruition took on this task and blew it out of the water should be your first clue into this groups long term staying power and we still haven't even touched on the music the band creates.
Mimi Naja (Mandolin), Kellen Asebroek (Acoustic Guitar), and Jay Cobb Anderson (Electric Guitar) are second to none when it comes to those vocal harmonies that grab your soul and keep you smiling. I'm really not sure what they put in the water up there in Oregon, but there is something special happening in that part of the country as far as music goes. Fruition is at the forefront of this movement with their infectious grooves that make it almost impossible to keep yourself from dancing around like a maniac.  It's as if they have tapped into a vein of America that combines everything I love about all of the basic genres that have built this country and they do it with an energy and passion that will surely propel them to the top in due time.
Saturday was a journey into many of their new songs that most of us die-hards weren't quite familiar with, which, suffice to say, was yet another look into the brilliant future ahead of these guys. With Keith Simon on stand-up Bass and Tyler Thompson on drums, they are able to create a rockin' rhythm that perfectly accents the Bluesy-Soul that is both heard sonically and understood through their heartfelt lyrics.
Closing time came and left but that didn't make a difference to the people getting down at the Other Side. A set of music from Fruition leaves you hopeful, happy, filled with some sort of excitement for whatever might come next as we travel down this road with all of our best friends. For those who chose to stick around, the fine folks at the venue allowed the dance party to rock until nearly 3:30 am which is almost unheard of in these parts. Yet again, another clue as to the staying power these folks possess.
If you are not on the Fruition bandwagon yet, I suggest with all the power invested in me that you hop on as soon as possible. Saturday left me with a warm heart and a longing for more of their music. Keep your eye out for the next time they make it back to the Front Range, and for what it's worth I suggest making it out to Campout For the Cause at State Bridge where they will without a doubt prove to you that Fruition is here to stay.
Energy: A
Musicianship: A
Sound: A
Stage Presence: B
Set/Light show:  C
Overall: A
I rode my skateboard from school in 7th grade to my buddy Vince's house where he put on the song "Perfect Government" by NOFX and I was hooked. The next day I bought the album Duh by Lagwagon. The next year I saw Against Me! at the Starlight Theater in Fort Collins, my mom dropped me off. I've since devoted every waking hour to anything done with passion. My speakerbox bumps everything from Lil' Wayne to Pablo Casals. I was never very good at making music, but I am damn good at listening to it. I've been filling up yellow notepads with random thoughts and misspelled words for as long as I can remember. I enjoy whiskey of all sorts, Newport cigarettes and the company of my family. I've got an addiction to run-on sentences that I'll probably never cure. A solid handshake with a stranger who has become a friend over a few beers means the world to me. You'll often find me wide eyed and wandering with an ear to ear grin. I live for funky break beats and spreading the love.