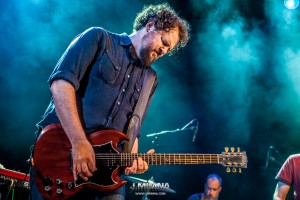 Photos by Jim Mimna 
The Scene: While the Boulder Theater was not packed for the Drive-By Truckers' two-night run, any newcomer could see that the band has a very dedicated fan base as most folks sang along with every word the Country Rockers cranked out.
Drive-By Truckers: While Patterson Hood remained a center of attention with soaring guitar solos and his roaring voice and Mike Cooley countrified things a bit with some steady finger-picking and vocals reminiscent of Johnny Cash or Merle Haggard, the newest member, bassist Matt Patton, seemed to be having the most fun. Laying down steady bass lines, the ear-to-ear smile on Patton's face and his bobbing head did not waiver from start to finish.
Not content to rely on any gimmicks, The Truckers kept the crowd engaged with heavy rockers like set opener "Lookout Mountain" and slow Country ballads full of emotion like "Tornadoes." Late in the set Hood launched into a passionate monologue about how the band started with the drummer keeping time with a constant beat on the kick drum behind him. As he rattled off all the uses for the band's road cases (including as their Cocaine hiding spot), the crowd whipped itself into a frenzy and the band plowed headlong into the song "Road Cases."
The peak of this show by far was the last offering of their five-song encore; a cover of Jim Carroll's "People Who Died" that featured Hood handing off his guitar and howling lyrics on his knees at the edge of the stage to the delight of a throng of fist pumping fans.
– Thanks to Adam White for contributing to this review
Drive-By Truckers – 4/12/13 Boulder Theater, Boulder, CO
Setlist: Lookout Mountain, Ghost To Most, Heathens, Sounds Better In A Song, (Something's Got To) Give Pretty Soon, Get Downtown, Drag The Lake Charlie, Where The Devil Don't Stay, Tornadoes, Women Without Whiskey, Box Of Spiders, Carl Perkins' Cadillac, Feb. 14th, Marry Me, Sink Hole, Uncle Frank, Road Cases, Self Destructive Zones, Play It All Night Long, Love Like This, The Company I Keep, Zip City
Encore: Birthday Boy, Girls Who Smoke, Three Dimes Down, A World Of Hurt, Shut Up And Get On The Plane, People Who Died
Energy: A
Musicianship: B+
Sound: A
Stage Presence: A-
Set/Light show:  B
Overall: A-
Music has always been a part of my life. It probably all started listening to old Grateful Dead, Peter Paul & Mary, and Simon & Garfunkel records that my parents had, but it wasn't long before they were taking me to concerts like Starship, Crosby, Stills & Nash, and Huey Lewis & The News. I got the bug to write about music after reviewing an Eric Clapton concert for a creative writing project in high school but didn't really take it up seriously until 2002. Since then I have published countless articles in The Marquee Magazine and done some work for Jambase.com, SPIN Magazine, and various other outlets. I started Listen Up Denver! as a way to share the music information that is constantly spilling out of my head with people who care. Please enjoy!