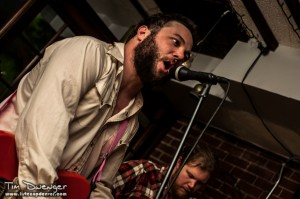 Photo by Tim Dwenger
The Scene: I had never been down South to Moe's Barbeque before; a shame I know.  When I mistakenly walked into the bowling alley side, my eyes and ears were welcomed by the sight of hippies bowling with The Grateful Dead's "Tennessee Jed" bumping over the lanes.  Last time I saw a bowling alley that cool was in The Big Lebowski.  The Dude Abides.  As I made my way into the restaurant and venue side my nose was greeted by the smell of barbeque, real barbeque.  Denver may have some fine cuisine, but as a Texan I have quite discerning tastes when it comes to Que, and I had yet to find good Southern barbeque in Denver. I think I found my place.  This is something I'm sure Mississippi born Robby Peoples can attest to and nothing goes better with good Southern barbeque than good Southern music. Oh yeah, and whiskey too.
Robby Peoples: Drink in hand I grabbed a good seat.  Apparently Tuesday is trivia night and show time was pushed back an hour.  This gave me time to chat with some folks who were there to see Peoples and his band.  As the lights went down it was nice to see many of the trivia goers sticking around for the show.  Moe's is a happening place to be on a Tuesday night.  Peoples introduced himself in a thick Southern drawl and the band came out kicking ass with "Gypsy Blues."  Although Peoples had a red Telecaster slung over his shoulder, he wasted no time in doing what he does best: blowing the harp.  With two additional guitar players, Robby was allowed to do his thing, swaying back and forth, stalking the stage, and singing with a guttural voice that comes growling at you like a Mississippi swamp cat.  A steamy slide solo from Adam Stern (Sam Holt Band) set the tone for the evening and the show was off and running.
The second song, "River Girl," is the second track on Peoples' new EP Love Don't Love Me No More.  The tune was a breezy, heartfelt contrast to the humidity of "Gypsy Blues" but the bouncy feel and tasty double stops from Stern didn't take away from the serious subject matter.  The song speaks of the schizophrenia that all artists face as they strive to be true to their passion while "chasing that same twenty dollar bill around the world."  Peoples delivered these lyrics in spoken word fashion, transforming from Robby Peoples to Reverend Peoples.  He testified that, "Tomorrow is not promised. You people might not wake up. So you might as well do what you love and quit doing what you hate!"  The song is ultimately about love that's "stronger than the mash in Tennessee."
I must admit that the band was a little loose for the first couple songs but they really tightened up on the darker, bluesier "No Reason."  It is sublime when a band just clicks like a light switch.  The moment this happened was during a sultry slide riff from Stern.  The band just locked into a groove and didn't let go.  This was a good thing as the song contained a tricky, almost waltz-like break, and they nailed it.  When a band falls into the pocket like that it is one thing for the audience, but it is like a mainline high for the band and they were feeling it.  As they surged into "Florida" a gritty two chord vamp, Robby began jumping up and down and stalking the stage like a caged beast who soon let loose some blistering harp after which he pointed to stage right and yelled "Get it Scotty!"  And Scotty got it.  His furious guitar solo stamped the song with an exclamation point.  Peoples and company were cookin' as they launched into what I describe as a Mississippi shuffle.  Peoples calls the song "Green Thumb" Blues Grass.  Either way Peoples passionately sang, "Work hard never play," echoing the sentiment of "River Girl" in a more lighthearted, tongue and cheek way.  The image of the boss man "with a big ol' green thumb and blisters in his hand" somehow champions the workingman while mocking his no fun attitude.  Robby blew some swamp harp and Stern let his Telecaster do what is was born to do, some chicken scratch flat pickin' that got the crowd movin' just in time for the family dynamic songs of "Mama Please" and "Shittin' Yella."
Peoples picked up his guitar and prefaced "Mama Please" with the ever so true adage, "Whiskey make you do funny thangs" and the band dropped hard into a blues riff.  Robby's harp was so eager to sing that it jumped right out of his hands and landed in the crowd…Whiskey make you do funny thangs.  The band however didn't miss a beat and a helpful audience member tossed Robby his harp and he commenced to wail over the hard, gritty riff.  Peoples' vocal on "Mama Please" was pure Blues.  If you closed your eyes you could almost hear Muddy up there singing and when Peoples sang "Daddy got a shotgun in his hands," Lightnin' Hopkins smiled in his grave.
"Shittin' Yella" had me chuckling to myself although I probably shouldn't have.  Domestic abuse and infidelity are no laughing matters but hey…what are Country songs for?  The lines, "Well sometimes he'd get drunk and mean and sometimes he'd hit her/And the times that my Mama wasn't there he'd try to fuck the babysitter" are just too devilishly funny not to laugh.  The band was all smiles and they really seemed to be enjoying themselves.  Scotty and Stern traded guitar licks and Robby threw down a rollicking harp solo.  They ended the song on an ironically peaceful three-part harmony.
But Peoples still had one more trick up his sleeve: Led Zeppelin's arrangement of "Bring It On Home."  The guitar players pulled off the Jimmy Page harmonies well.  Robby left it all onstage and blew the harp as if possessed.  The band even did a little jamming with Stern getting an eerie siren effect slinging around the room.  As the last Blues walk-down trickled away, Robby thanked the crowd in southern gentlemanly style.  As I walked out into the freezing rain I found myself thinking, "Now that is how R & B is meant to be seen."  In a dimly lit, hot and sweaty dancehall at the back of a barbeque joint with the musicians leaving it all onstage.  Oh yeah, and whiskey too.
Energy: A
Musicianship: A+
Sound: B
Stage Presence: A+
Set/Light Show: C
Overall: B+

Nate Todd was born on the central plains of Nebraska, but grew up on the high plains of the Texas panhandle. With not much to do in either place, music was his constant companion. His parents dubbed the first two albums he ever owned onto a tape for him. Side A was Bert and Ernie's Sing Along. Side B was Sgt. Peppers. His lifelong love affair with music started early as he practically grew up in a Rock & Roll band, with his father and uncle often taking him out on the road or into the studio with them. Nate began performing live at sixteen and hasn't looked back, having played in numerous bands from L.A. to Austin. At the age of twenty he was bitten by the writing bug, and upon moving to Denver decided to pursue a degree from Metropolitan State University where he recently graduated with a B.A. in English and a minor in Cinema Studies.