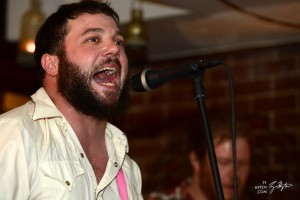 Photo by Ty Hyten
Why You Should Go: Authentic is the word that most often comes to mind when listeners are introduced to Robby Peoples' music. He cut his teeth on the front porches of Oxford Mississippi, and his recent relocation to Denver has taken the town by storm. As he saunters on stage his lyrics are growled with an air of truth that could only be achieved by experience. The realities and pains of living low on the hog and high on hard liquor are ingrained in each word, and Peoples sucks you into a world most have never crossed into.
Whiskey, pills, and shotguns fuel the stories sung by Peoples, and Denver's favorite sons, The Congress, (on board as the backing band for his new EP Love Don't Love Me No More) throw a dangerous amount of dynamite into the already explosive mix. Robby Peoples takes an aggressive approach to his craft, and lays everything out on the table. His songs are written with honesty, and his performance radiates with charisma and energy. Whether live or recorded, Peoples' message comes across like a shotgun blast to the chest.
With Robby Peoples' and The Congress in the front room, and the legendary Melvin Seals and JGB in the back, this is gonna be one hell of a weekend at Quixote's!  Friday night will also feature The Recovery Act starting promptly at 9pm!
Venue: Quixote's True Blue, 314 E. 13th Ave, Denver, CO  – (303) 366-6492
Doors: 8:00 pm. Music Starts at 9:00 pm
*Price: $20.00
Buy Tickets
*All prices are gathered from other sources and we are not responsible for mistakes or inconsistencies. They are intended only as guidelines. Please, always call the venue if you desire the most accurate information possible.