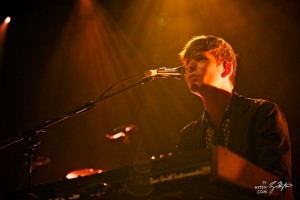 Photos by Ty Hyten
The Scene: Given that it was a Sunday night show, the doors were open early and the crowd was certainly more docile than one you'd catch on a true weekend night.  The Ogden's stage was lit sparsely with blues and purples befitting the tone of the tunes, with strobe lights being the most adventurous light display of the evening.  Apparently the opening act didn't do much to enliven the audience, so by the time James Blake took to the stage the anticipation in the room was tangible.
James Blake: Having become a fan of Blake's music within the past year, specifically through repeatedly listens to his eponymous album from 2011, I was excited to see how his music translates to the live stage.  With continued debates about how much an artist needs to display while performing onstage, Blake's music is complex enough that it probably could pass the live test by playing it through a computer in a DJ set style.  I am happy to report that on this night, the British electro crooner brought two accompanists with him to our city and the result was everything I had hoped for.
Blake took to the road immediately following the release of his latest album Overgrown this April.  The album has received stellar reviews, similar to his 2011 record, which was the impetus for him being able to expand the reach of his live dates this time around.  With a simple stage and lighting setup he appeared before a mellow crowd and played a few tunes from Overgrown.  When he began to belt out the single repeated refrain from "I Never Learnt To Share," electricity was in the air and the audience came to life.  This was the first point at which Blake showcased a trademark sound, using a live looping mechanism to sing multiple harmonies with himself.  It's one thing to hear a song like that through your headphones, knowing full well that it may have taken multiple takes to get each line right, but seeing it live and recorded one loop directly after the other is a wonder to behold.  The sound that the James Blake trio creates with their "enlivened versions" of album favorites incites a need to see them up close and personal.
Having gained notoriety early in his brief professional music career as a bedroom beat making U.K. Dubstep artist, his background in bass was by no means left by the wayside.  Although his voice and sparse singer/songwriter lyrics can play to a folk crowd, the powerful grasp of his bass lines coming through the keys were an equally engaging part of the show.  The mix was clean and Blake's ability to use simple effects like panning made the room shudder and flutter with soulful sound.
Blake's counterparts on stage more than held their own musically and made me think of other skilled trios like Jon Butler Trio and John Mayer's long since passed effort of the same ilk.  Drummer Ben Assiter took Blake's beats to new heights performing them live with a hybrid electronic drum setup.  A handful of the beats I've heard many times on the albums made me wonder how someone would be able to perform them live.  Assiter's skillful work on percussion showcased the ability to take beats from sparse to samba to somber in no time flat.  Rob McAndrews' work on guitar and the sampler rounded out the crew gracefully, subtly interjecting chords and rhythms throughout the set.
On newer tracks like "To The Last" and the Brian Eno collaboration "Digital Lion," the layers of loops sonically stacking up to the rafters reminded me of great jam bands and at times of Radiohead.  Some may feel hesitant about recent Thom Yorke comparisons, but Blake's voice coupled with his ability to chop and twist it on the fly should certainly garner that sort of praise.  His performance of "Lindisfarne II" created a 5-part chorus that left audience members looking to the rafters in awe to see where all of that tone could possibly be coming from.
Blake is a young producer and performer who is shaping his artistic voice before our very eyes.  It was a pleasure to be there to witness his first time through our city.  He has a unique ability to create a palpable sense of attention from the crowd while also injecting dance floor grooves and dubstep bass all in one package.  Some call his sound post-dubstep or electro-soul but as any concertgoer knows, a label doesn't matter when a performance hits the stage.  If you've heard and enjoyed any of the work off of his two full album releases, this is a show you would not want to miss.
Energy: B+
Musicianship: A-
Sound: A
Stage Presence: A
Set/Light Show: B
Overall: A-