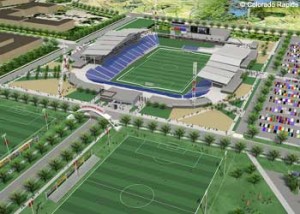 In its final tour date announcement for the summer and fall of 2011, Phish confirmed a rampant rumor and unveiled plans to bring its summer outing to a close with three consecutive nights at Dick's Sporting Goods Park in Commerce City, CO over Labor Day weekend (September 2, 3 and 4). Colorado was the site of Phish's first extended tour outside of the Northeast, and the band has enjoyed a special connection with the community ever since, with tickets for ALL of its recent COLORADO shows selling out in seconds.The Labor Day weekend concerts will mark the band's first-ever performances at Dick's Sporting Goods Park. Convenient onsite camping will be available in the lush soccer fields adjacent to the stadium.
 An online ticket request period is currently underway for the Dick's Sporting Goods Park shows at http://phish.portals.musictoday.com/ and will conclude at noon ET on Monday, May 23. Tickets will go on sale to the general public beginning Saturday, June 4, at 10:00 AM MT. They can be purchased online at http://www.tickethorse.com or charged by phone at 303.534.6773.  Tickets may also be purchased at Tickethorse Kiosks in Dick's Sporting Goods stores and the Pepsi Center Box Office (10:00 AM – 2:00 PM on June 4 and Monday – Friday, 10:00 AM – 5:00 PM) and at the First Bank Center (10:00 AM – 2:00 PM on June 4).
 The stadium's general admission set-up – with a choice of tickets to the spacious field area or the stands – ensures that fans will have plenty of freedom to move around and catch the show from different vantage points. Three-day camping/parking tickets will be available at http://phish.portals.musictoday.com/. The campground will open on Friday, September 2, at noon and close on Monday, September 5, at noon. For additional details, please visit http://phish.com.
 Phish's 2010 outing was named one of the "25 Must-See Summer Tours" by SPIN, which praised the band's "epic, musically adventurous shows," while The Denver Post called their return to Telluride "an event that ranks on the very top shelf of the 27-year-old band's trophy case."
 The band will kick off its2011 summer tour on Memorial Day weekend in Bethel, NY. Super Ball IX, Phish's ninth festival and its first to take place over Fourth of July weekend,will be held at Watkins Glen International, located amid the rolling hills of central New York's Finger Lakes region. For additional details, visit www.superballix.com.Ticket prices for each specific date on the summer run will include a free MP3 download of the entire show (a fully mixed soundboard recording) that can be redeemed at www.LivePhish.com shortly after the band steps off stage.

Music has always been a part of my life. It probably all started listening to old Grateful Dead, Peter Paul & Mary, and Simon & Garfunkel records that my parents had, but it wasn't long before they were taking me to concerts like Starship, Crosby, Stills & Nash, and Huey Lewis & The News. I got the bug to write about music after reviewing an Eric Clapton concert for a creative writing project in high school but didn't really take it up seriously until 2002. Since then I have published countless articles in The Marquee Magazine and done some work for Jambase.com, SPIN Magazine, and various other outlets. I started Listen Up Denver! as a way to share the music information that is constantly spilling out of my head with people who care. Please enjoy!