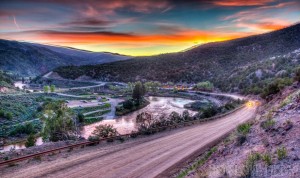 Photos by JohnRyan Lockman
The Scene: Imagine a place where you wake up alongside a quiet river surrounded by rolling hills, views of snow-capped mountains in the distance, a brief walk to yoga and paddle boarding, live music in a very intimate outdoor venue and old and new friends everywhere you turn. Got it? Well, that's State Bridge. There are two campgrounds: BLM (closer to the venue) and Rancho Del Rio, which is roughly 4 miles past the venue, but much larger, more spacious, and most importantly, on the banks of the Colorado River. I stayed at Rancho Del Rio this time (I have stayed at BLM in the past) and recommend this site, hands-down. There is a general store, local barbecue, and you have to take shuttles from both campgrounds regardless so you might as well stay at this one. For Campout for the Cause, this area was the place to be, workshops and hula-hoops galore.
The crowd for the festival was the typical State Bridge crowd: hippy, with nice families sprinkled here and there. It was, of course, a festival so there were a variety of girls in long flowing skirts, guys in fedoras and Hawaiian button downs, groups of people bouncing off the walls and other groups of people falling over each other. That's where the school buses came in handy! In regards to that, I must give a huge shout out to the people behind State Bridge and Campout for the Cause. They work their butts off to accommodate everyone and, besides when the shuttle buses break down (hey, they're really old and driving through mountains), have phenomenal attitudes. So thank you to the general store manager at Rancho, school bus and shuttle drivers, bartenders, box office ladies, security, breakfast sandwich maker and everyone else involved. You rock!
Music: I have never been to Campout for the Cause before so I don't have much background on its history, but I do appreciate that they incorporate various types of music. For the most part, it was Bluegrass, Jam and Funk. Some highlights of the weekend included The Magic Beans, Fruition, Govinda, Mountain Standard Time, Whitewater Ramble, Ishi, and Jaden Carlson—a 12 year old guitarist and singer/songwriter from Boulder.
The Magic Beans closed out Friday's set, which started music a little later to allow the 9-5ers to roll in. The light show was impressive for this one and I'm not sure if that is the Beans' doing or the venue's, but it was funky. Beans style. They are the type of band that you can watch and you know that they know each other well. They performed it all: long improv jams, favorites like "Nisswa" and "Luck" and a well known sing-a-long called "Adonde?" The crowd reacted with lots of bobbing and Do-Si-Do's, but my favorite set of theirs was their Sunday afternoon string set. The Magic (String) Beans played for a smaller crowd, mostly due to the scorching heat and lack of shade in the venue but that didn't stop people from smiling and bobbing aimlessly. This was a more intimate set and you could tell the band felt this. Other musicians came on stage and it just started meshing. This was only the second or third time for The Beans to perform a string only set, but it's something special and I'm excited to watch their ascent on the scene.
Mountain Standard Time and Whitewater Ramble were my top Bluegrass sets and Govinda and Ishi were great electronic influenced acts who incorporated a refreshingly wide range of instruments. I had never seen either of them before so they were some of the weekend's great surprises. That said, in my opinion the biggest let down of the weekend was Zion I and while Yamn's mainstage set on Saturday seemed a little lackluster, they made up for it on Sunday night with a mystery set at the smaller stage. They sounded more upbeat and ambitious, which is what the crowd needed from them after their lagging set Saturday night.
As far as Zion I goes, they just didn't really need to be there. I get it. You want all genres to be celebrated and I support that. We all did. But sandwiching them in between Bluegrass and a band similar to Umphrey's McGee is going to get some negative response. The audience that comes to Campout for the Cause won't be so eager to shout "OUT" after you say "CAMP" 50 times. Call & response and raising/clapping your hands in the air was a stretch for this scene. Sorry, Zion I. I love you, but not here.
Finally, let me bring attention back to the one and only Jaden Carlson, the 12-year-old rocker chick from Boulder, CO. I wish I had that kind of confidence, attitude, and wardrobe when I was her age. Her fur vest was badass. I missed most of her solo set at the small stage, but I caught her with My Brother's Keeper. She kept up with them—that's for sure, but her guitar solo during their cover of The Band's The Weight stole the show. She riffs it flawlessly and wholeheartedly. Keep an eye out for her to pass through—she'll be at Arise Festival this August in Loveland, CO.
Overall, this festival is original, intimate, and truly at touch with its roots. Bands would hop on the school buses and jam out there or show up at the campgrounds and play. It was a weekend where you could walk around and be extremely fulfilled by whatever was around you.
Lindsay was born in Georgia, raised in Florida, and moved to Colorado when she turned 18. All Lindsay asks for in life is music, hoppy beer, and the written word. The necessities of family, friends, water, and food naturally follow.