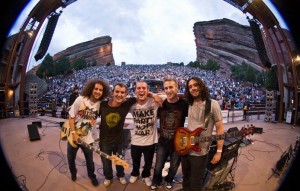 Regan Management Group LLC is pleased to welcome Kinetix for exclusive representation. Based out of Denver, CO, Kinetix is known for their outrageous high-energy shows blending party rock, funk, pop, hip hop and live electronica.
Dynamic. How better to describe Kinetix, a band whose 2010 album Let Me In hit #47 on the iTunes Top 200 Rock Charts and who played separate national tours with Hip-Hop darlings Flobots and Australian roots-rock kings Beautiful Girls?
Currently on tour behind their new EP Never Too Late, Kinetix has shown that they are masters at redefining their ever-evolving sound. Upbeat rhythms, strong beats and funky melodies make their new release a reflection of their current path.
On the heels of these two releases and a slew of major summer festival dates including Wakarusa, 10k Lakes, Summer Camp, Shagri La, Forecastle, Bella Mente and Snowball, Kinetix presumes to be even more potent as they tour in 2013. Already renowned for their performances, it's easy to call Kinetix in 2013 a "must-see" live act.
Kinetix's rise from their Denver roots into a nationally touring band is the result of talent, enthusiasm and a lot of hard work. Formed at the Lamont School of Music at Denver University, Kinetix was originally meant as a vehicle to blow off steam and play music at weekend hangouts. However, their popularity during those early days became a campus phenomenon that quickly outgrew the limited confines of house parties and campus events. Within two years of forming, Kinetix was selling out local theaters and collecting invites to summer festivals nationwide. Encouraged by the warm response, the band set out to establish themselves nationally and have been building their fanbase ever since.
The band has an exceptional relationship with Josh Fairman on bass, George Horn on drums, Chris Beck on keyboard, Jordan Linit on guitar and Adam Lufkin on guitar and vocals. Adam's words resonate with significance and combined with the band's instrumental capacity they are transcending genres and challenging the current music scene.