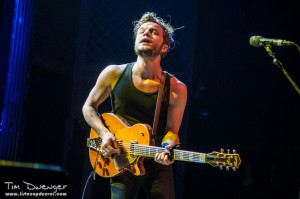 Photos by Tim Dwenger
The Scene:  The term "suspension of disbelief" has been referred to as an audience's willingness to overlook the implausibility of a premise or narrative in favor of entertainment.  Case in point:  Folk singer-songwriter Kristian Matsson, also known as The Tallest Man on Earth, is 30, married and Swedish.  He's also not particularly tall, much less the tallest (Google suggests he is 5'7″).  Yet, at Matsson's show at the Ogden Theatre last Saturday, you could have sworn people were there to see the Paul Bunyan-Woody Guthrie equivalent of Justin Timberlake.   Even the more mature folks stepped down a few notches to join the heartfelt yearning of the younger stock, many of whom looked to have carefully picked out their favorite vaguely tribal, gauzy cinched tunic tops and leather boots for the occasion.  Judging from the crowd's palpable enthusiasm from start to finish, you suspected that reality was being cast aside in favor of a much higher calling than mere entertainment.
Opener: Strand of Oaks.  Almost stealing the show was opener Strand of Oaks.  First impressions conjured up images of large bearded men out on the Artic Tundra under an Aurora Borealis, inspired by an Americana-like Explosions in the Sky.  Upon further investigation, Oaks consists chiefly of Timothy Showalter, an Indiana Mennonite turned Pennsylvania Hebrew day school teacher.  While not all of their songs were literally slow, Showalter delivered his lyrics deliberately, as if his stories were intended to expand and fill empty space, the reverberations of the drummer's mallets left a footprint even after the band had left the stage.  The audience was left surprised and awed.
Tallest Man on Earth:  Now emotionally prepped, the screaming started before Matsson even took the stage.  A recorded track started playing what was speculated to be "something possibly Swedish?" before the lights came up and Matsson came out blazing with "King of Spain" from his 2010 album, The Wild Hunt.  Matsson's technical command of the guitar is obvious from his recordings, but seeing him furiously strum, pluck, and pick away in-person provides an added level of appreciation to his music.  Dressed in a black tank top and jeans, one could think that Matsson's shoulder-bicep bearing was intentionally meant to highlight this musical prowess.  Or maybe he just likes tank tops.  In any case, minor swooning was about, with one female concert goer murmuring, "I just want to touch him."  Indeed, it did seem that Matsson's goal was to draw a straight line between himself, his songs, and the audience, locking eyes with the crowd repeatedly as he roamed the stage.  The sparse stage set-up supported this singular endeavor, with only a metal folding chair and a microphone serving as accoutrements.
After playing the favorite, "Love is All", complete with helpful echoes on the lyric "let them go-o-o-o-o…" from audience members, Matsson moved onto his latest album, There's No Leaving Now, and played "To Just Grow Away" and "1904."  By then, both men and women were heard to be shouting out "I love you!" while Matsson answered by passionately throwing guitar picks to the back of the stage between songs.  Eventually he reverted back to older songs off his first 2008 album, Shallow Grave, such as "I Won't Be Found" and "The Gardener" and the lights were dimmed to a luminescent blue for "Where Do My Bluebird Fly."
At one point, Matsson stopped mid-song to ask for security to attend to a concert goer who had fainted or fallen (due to alcohol or sheer emotion, who knows), which was definitive proof Denver had captured his heart.  After ending with "There's No Leaving Now," Matsson came back for an encore which included "The Wild Hunt" and a cover of Paul Simon's "Graceland."  As the residual melody of Matsson's voice shouting out "…Memphis, Tennessee…" lingered over the crowd, the implausible had become plausible.
Energy: A+
Musicianship: A+
Sound: A+
Stage Presence:  A+
Set/Light Show: B
Overall: A+
Patty is a Washington State native that was lured to Colorado by the sun and the mountains. When not listening to music, there is a pretty good chance she can be found eating ice cream.