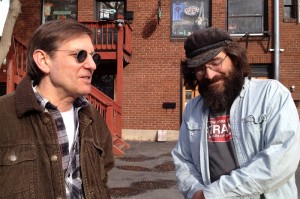 In Latin "Sol" means "Sun."  In French "Monde" translates to "Earth."  In Vermontese Soule Monde (pronounced Sol-Leh Mon-Day) means drummer Russ Lawton and keyboardist Ray Paczkowski, Soule being Lawton's middle name and Monde deriving from Raymond.  In Haitian Creole "Soule Monde" translates to "smashed world," which is exactly what will happen to yours when you hear this dynamic duo shatter conventional notions of Jazz, World-Beat, and Funk this Saturday, June 22nd at Cervantes' Other Side.  Listen Up Denver! was curious as to how this group came to fruition and in chatting with Ray Paczkowski, a story began to emerge.
There was once a young man who worked on a dairy farm.  He liked to play piano…a lot.  Thelonius Monk and Abdullah Ibrahim danced through his head as he himself danced over the verdant dairy pastures of Vermont.  Then one day a call came in.  There was a Hammond Organ in an old barn.  Would he come get it?  Yes he would!  This was Ray Paczkowski's introduction to the Hammond Organ and it has kept him busy ever since. "There are so many sounds inside the Hammond.  I'm still discovering new ones," Paczkowski said in a recent interview with Listen Up Denver!  You may have heard Paczkowski showcasing these sounds with Trey Anastasio Band, Dave Mathews and Friends, or his other longtime project Vorcza.  His style is a cornerstone of all these groups and is hard to miss.  It is percussive and persuasive.  Persuasive in the sense that it will make you want to dance.  Percussive in the sense that…well, he's "a drummer at heart."  In a music world where duos seem to be springing up everywhere, Paczkowski's percussive nature coupled with Lawton's visceral drumming is what gives Soule Monde a unique and intriguing sound.  It's all about the rhythm, which is where Lawton comes in.
Russ Lawton also plays with Trey Anastasio Band and is Grammy nominated for co-writing credits on the song "First Tube," but to be honest, TAB is a footnote in in this drummer's amazing career.  Growing up in the Boston area, Russ began drumming and studying under legendary drummer Gene Roma.  Roma has played with a few folks you may recognize: Frank Sinatra, Count Basie and Buddy Rich as well as drumming for numerous Broadway shows.  Lawton's tutelage under Roma served him well as he ventured into the broadly defined tangle of "World Music."  Russ sharpened his chops playing with Zzebra, a group formed by Lofty Lasisi Amao, percussionist of West Africa's highly successful group Osibisa.  Lawton has also toured with Burlington Vermont based band Strangefolk while finding time to make music for films such as Mike Gordon's Outside Out and the L.A. movie Left Hand Path.  Oh yeah, and he also gives drum lessons.  Wow.  Lawton is the inspirational, driving force behind Soule Monde's songs. "Russ starts out with a groove and then I develop riffs and melodies off of his rhythms," said Paczkowski who may have been being a little modest because it is the interaction between the earth and the sun that makes things grow.
Soule Monde grew out of a serendipitous phone call back in 2007 or 2008 when "Russ called me up about playing some duo music at a place in Waitsfield, Vermont that had a Hammond Organ at the venue.  It was really on a lark, just to have some fun at a local joint."  But Soule Monde is no joke.  Honing their craft in small clubs of the Northeast and making regular appearances at the legendary Nectar's in Burlington, Lawton and Paczkowski developed a repertoire that begged a studio effort.  So, in 2012, the duo entered the studio to begin work on their first record, Soule Monde.
While many of Soule Monde's songs were crafted in the dark and rowdy clubs of Vermont, they were refined in the studio with Lawton and Paczkowski following their time tested formula of Lawton laying down a beat and Paczkowski inserting catchy organ swells and funky Clavinet lines.  Paczkowski uses the Hammond like a hook machine as well as his main means of soloing while he uses the Clav as an intro device as well as a way to reiterate certain themes.  At a time when many keyboardists run their Clavs through Wah Pedals and Tube Screamers along with various other thrills and frills of the digital age, Paczkowski keeps it simple. "I only run the Clav through a tape analog called a Memory Man, giving the instrument an almost Spanish Guitar feel," he revealed.  Paczkowski's Clav certainly fills in for the absence of a guitar in the band, with the clean, smooth delay and echo from the Memory Man reminding us that the Clavinet was invented to electronically mimic the Clavichord, an instrument that came out of the late medieval period.  With a vastly different sound than the piano, the Clavichord strikes brass onto a single iron string whereas the piano uses felt covered hammers to strike groupings of strings.  The Clavinet is simply an electrified Clavichord using a pick-up to transmit the sound.  The interplay between Paczkowski's guitar-like Clav and the classic Leslie swells and biting, percussive solos of the Hammond are a dynamic and yet simple combo and he intends to keep it that way. "There is a nice and challenging thing to limiting the voices in a live setting," he said.  "I do often consider and have used in the past other instrumentation.  Vintage gear gets heavy though!"
Oh yeah, did I mention that Paczkowski also plays the bass lines on the lower deck of the Hammond, no easy feat in a live setting and one might think that in the studio the bass lines would be overdubbed or a session bass player brought in, but that is not the case.  Paczkowski and Lawton like to keep it simple, and brilliantly so.
At the end of the album's fifth track, a Latin infused number aptly named "Tango," Paczkowski can be heard yelling out "Victory!"  After which Lawton launches into a John Bonham-esque drum coda.  This naïve music critic took this to mean that "Tango" was a particularly difficult track to get through.  Again, not the case.  "I think I yelled that out because we nailed the song in one take," says Paczkowski.  In fact, most of the songs on the record were pounded out in one or two takes with minimal overdubbing.  "We did do a couple of overdubs," he admitted.  "We couldn't help ourselves."  Here again Paczkowski's modesty shines.  Playing the Clav, Hammond, and bass lines over Lawton's driving and subtly intricate rhythms in a few takes while resisting the urge to go crazy with overdubs that the studio setting affords is impressive.  Even more impressive is the fact that while the instrumentation may be basic, the themes and motifs of Soule Monde's songs are deceptively complex in their simplicities.  Many critics have noticed a narrative quality in the group's compositions, but how does a pure instrumental band achieve such rich narrative structure?
I'll let Paczkowski handle that one, "The narrative aspect is just the result of improvisational intent that you start with feel, surprise yourself with a phrase or melody that becomes a statement, and then proceed to have a conversation with it, constantly building on what came before.  Both of us being composer/songwriters there is a wealth of experience in crafting a piece, so we have an ingrained sense of what the arc of the improvisation should be."  The narrative quality of the songs also comes from the narrative of Lawton and Paczkowski's long and storied musical careers.  Many of the song titles and themes are pooled from Lawton and Paczkowski's mentors, influences, collaborators and the venues they frequent.  Remember Lawton's stint in Lofty Amao's Zzebra?  Amao's middle name is Lasisi, the title of track four on the album.  The song starts out with flights on the organ accentuated by African sounding pitch bends and the Spanish Guitar-like Clav before exploding into a psychedelic, polyrhythmic romp with a distinctive African feel.  "Bootsy Bonham" is fairly self-explanatory, beginning with a heavy Bonham-esque beat soon joined by a funky Bootsy Collins-esque Clav line.  From there the Hammond takes over, with Paczkowski doing Bootsy justice on the bass lines.  "Miss Miriam" is a jazzy, somewhat medieval, Latin beat infused homage to local songstress Miriam Bernardo, while the funky, Clav driven, Hammond hammering "Slide B" seems to be a nod to the hole in the wall bar, Slidebrook, where the duo honed many of their songs.  It is their combined musical history, their intertwined story (one of the tracks is called simply "The Story") that sets them apart, "I guess it is that the music we make is a confluence of both of our interests and influences.  There is a strong World Beat sensibility in Russ' feels, a love of more Avant Jazz ideas in mine, and we are both suckers for a killer Funk feel."  Aren't we all.
Nate Todd was born on the central plains of Nebraska, but grew up on the high plains of the Texas panhandle. With not much to do in either place, music was his constant companion. His parents dubbed the first two albums he ever owned onto a tape for him. Side A was Bert and Ernie's Sing Along. Side B was Sgt. Peppers. His lifelong love affair with music started early as he practically grew up in a Rock & Roll band, with his father and uncle often taking him out on the road or into the studio with them. Nate began performing live at sixteen and hasn't looked back, having played in numerous bands from L.A. to Austin. At the age of twenty he was bitten by the writing bug, and upon moving to Denver decided to pursue a degree from Metropolitan State University where he recently graduated with a B.A. in English and a minor in Cinema Studies.