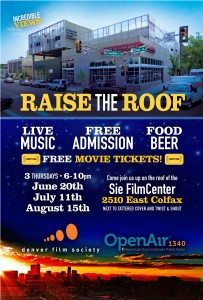 Music and Film.  The former has defined human culture for thousands of years.  The latter may very well define our culture for thousands of years to come but they are by no means mutually exclusive.  From the dawn of the moving picture, music has played a greater role than the spoken word.  With no words, a dark, ominous piano bristling would usher in the mustache-twirling villain and soon a damsel in distress would be tied to the tracks.  Even in modern times, imagine the last sequence of Fight Club, buildings crumbling all around, without The Pixies' "Where Is My Mind" haunting us in the background.  The spoken word didn't even appear in film until the late twenties and even the first feature film labeled a "talkie" was called The Jazz Singer.  So, in a way, music and film transcend language.  This is what the folks at The Denver Film Society and The Sie FilmCenter (next to Tattered Cover and Twist & Shout) had to have been thinking when they created the Raise The Roof concert series a year ago.  "We're thrilled to be able to bring back our Raise the Roof events for a second straight year," said Ryan Oestreich, Director of the Sie FilmCenter.  "Last summer's events struck a chord with our friends throughout the community as more than 2,600 people attended these rooftop celebrations."
This summer you will be afforded the chance to chill out to skyline and mountain views on the rooftop of The Sie FilmCenter with some of the most buzzed about bands in Colorado.  All attendants will receive a buy one get one free ticket to see a film of your choice at a later date.   Music promoting film, it's a beautiful thing.
This Thursday June 20th will see two great bands take the CulturePlex roof, selected by the fine folks at Colorado Public Radio's Open Air, the first of which is Dragondeer.   This trio sounds like a six piece band.  First off is Eric Halborg who named the band after his sound and graphic design company.  He plays guitar and harmonica and has a deep bluesy baritone that drips with southern swagger.  Also reminiscent of Delta Blues is lap steel and mandolin player Cole Rudy but his slide style is unique and haunting when compared to more traditional lap steel players.  Carl Sorensen lays down the foundation for Halborg and Rudy to soar above; he can shake a mean maraca too.  While Dragondeer have there feet firmly planted in the Blues, their minds seem to float in a more psychedelic world, along the lines of The Doors.
A "Varlet" is a man or a boy acting as an attendant or servant.  It's also a band.  Fronted by the sultry voiced siren and American Idol contestant Lilly Scott, whose voice—if you close your eyes—reminds you a bit of Billie Holiday.  Like Dragondeer, Varlet exudes a bluesy, folky feel with jangling guitars and whispering snare drums; but they also shimmer in a heroin chic drenched psychedelia that swirls through your brain leaving a beautiful but haunting trace.  Much like Lady Day herself.  Seeing Varlet live with the sun going down over the city and the mountains beyond will make servants of anyone standing on that roof.
The comedic element will also be represented, as local comedian and creator of Mile Hi Sci-Fi Harrison Rains will emcee Raise The Roof.  This Thursday will also feature the comedic stylings of Jodee Champion.  The CulturePlex rooftop will open at 6:00 pm and music starts at 7:00 pm.  Local restaurants from off Colfax will serve food, drinks, and sweets.  The Raise The Roof concert series will continue on July 11th and August 15th so stay tuned to Listen Up Denver! for more featured artists.
Nate Todd was born on the central plains of Nebraska, but grew up on the high plains of the Texas panhandle. With not much to do in either place, music was his constant companion. His parents dubbed the first two albums he ever owned onto a tape for him. Side A was Bert and Ernie's Sing Along. Side B was Sgt. Peppers. His lifelong love affair with music started early as he practically grew up in a Rock & Roll band, with his father and uncle often taking him out on the road or into the studio with them. Nate began performing live at sixteen and hasn't looked back, having played in numerous bands from L.A. to Austin. At the age of twenty he was bitten by the writing bug, and upon moving to Denver decided to pursue a degree from Metropolitan State University where he recently graduated with a B.A. in English and a minor in Cinema Studies.