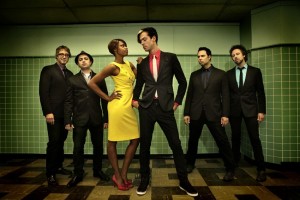 The Scene: A sea of people glimmered and gleamed in the overflowing Gothic Theatre last Friday for the dynamic Indie-Pop group, Fitz and the Tantrums. The women reigned supreme—dressed to the nines with their boyfriends in tow while others decided to bring their mothers who seemed more amped to see Fitz than anyone one else. One elderly woman on the balcony seemed as if she was going to fly over the rails from fist pumping so vigorously. As packed as this sold-out show was, no one pushed, no one shoved, and all awaited Fitz and his Tantrums anxiously; channeling their inner sardines, no one budged. Moreover, all concert attendees were very well behaved as I saw no one…err…medicating in the audience. The demographic here could be summed up in one word: classy.
Opener: Ivy Levan.  Folks started rolling in as Ivy Levan took the stage. Her rock star energy and Janelle Monae inspired hairdo got the early birds amped and ready. There were a good amount of hipsters getting up close and personal, and I overheard them saying they came to the show just for Levan. Typical. As far as performance goes, she has a lot of promise moving forward with her stage presence and sound, but I didn't really care for the band's gimp masks.
Opener: Saints of Valory.  After the set break, the men of Saints of Valory took the stage. Stationed in Austin, TX primarily, SOV is no stranger to crowds of music lovers in Portlandia-esque cities. After learning the band's multicultural background from a fellow concert goer (a Brazilian, a Frenchman, a Canadian, and an American), I knew I would be drawn to their sound. I like to call it Rock Infused Alternative with a splash of Ethnic Inclusiveness: a girl's dream. The performance, overall, was striking and evocative.
Fitz and the Tantrums: During the set break, only a handful of people went out for a smoke break or to grab a drink from the bar. That is how firm individuals were on getting the perfect sight of Michael Fitzpatrick (aka Fitz), his leading lady, Noelle Scaggs, and the rest of the band: James King, Joseph Karnes, Jeremy Ruzumna, and John Wicks.
While waiting for the performance to begin, I overheard someone describing Fitz and the Tantrums as "David Bowie meets Tina Turner." I don't think William Fitzpatrick sounds as much like David Bowie as he does…say…Daryl Hall of Hall & Oates, but I get what you're trying to say kid. The LA-based band flew through their Denver show without missing a beat; their dynamism ending with the same energy it began.
The show kicked off with "Get Away," a song off their latest album More Than Just a Dream and Fitz had the crowd jumping and clapping along with him…prepping everyone for what was to come. The very popular "Don't Gotta Work It Out" followed this and hype woman/lovely vocalist, Noelle Scaggs, greeted the fans. Everyone lost it. For the most part, the lights remained monotonous suggesting that Fitz's voice remain the focal point of the performance but the band's energy and the vocals of the lovely Noelle also proved to be noteworthy.
Songs from their first album, Pickin' Up The Pieces, were their next choices: "Winds of Change" and "Breakin' The Chains of Love."  A cover of Eurythmics "Sweet Dreams (Are Made Of This)" was my favorite of the night and a great surprise. Fitz seemed to be striving to lead his original retro sound into a more unexpected, grander set. The popular single "Out Of My League" was performed soon after along with the ever-so-catchy "6am" followed by the interactive "Dear Mr. President." The first set ended after an hour with "L.O.V." and the sextet returned after a short break as Fitz and the Tantrums busted into "Moneygrabber," a song reminiscent of 60s soul—a personal favorite of mine. Fitz had everyone get on the ground at this point in the show, even signaling for the sound guy to drop down. "Pickin' Up the Pieces" closed out the show, paying homage to their original sound. The finale was sweet and resonant. Overall, the show was like a fantastic disco party that I never wanted to end.
Energy: A+
Musicianship: A-
Sound: A-
Stage Presence: A
Set/Light Show: B
Overall: A

Lindsay was born in Georgia, raised in Florida, and moved to Colorado when she turned 18. All Lindsay asks for in life is music, hoppy beer, and the written word. The necessities of family, friends, water, and food naturally follow.