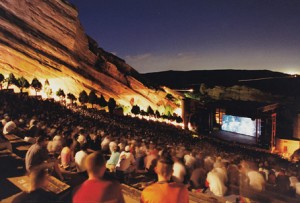 Film on the Rocks is a tradition here in Colorado.  On several nights over the course of the summer, Red Rocks is taken over by movie fans.  While each film features at least one opening band, the focus here is definitely on cinema.  This season looks particularly good with movies like The Big Lebowski, Pineapple Express, and the Talking Heads concert film Stop Making Sense standing out.
Tickets are $12.00 and can be purchased at denverfilm.org or Film on the Rocks Facebook page. Day of show tickets are available at the Red Rocks Box Office for $14.00
Tickets are also available for purchase at the http://www.denverfilm.org/filmcenter located at 2510 E. Colfax (next to Tattered Cover and Twist & Shout).
All Film on the Rocks doors open at 6:30 and programming starts at 6:45. Movie begins at dusk.
May 31, 2011
Big Lebowski
Band: The Informants
Purchase Tickets
June 6, 2011
Footloose
Bands: Matt Morris / Le Divorce
Purchase Tickets
June 14, 2011
Scott Pilgrim vs the World
Bands: School of Rock Denver / Boulder All-Star Jam w/special guests
Purchase Tickets
June 22, 2011
A Fish Called Wanda
Band: Scars on 45
Purchase Tickets
June 28, 2011
Edward Scissorhands
Band: Ukelele Loki and the Gadabout Orchestra
Purchase Tickets
July 5, 2011
Top Gun
Bands: Candy Claws w/ Peder Noir Quartet
Purchase Tickets
July 12, 2011
Pineapple Express
Bands: Air Dubai / Larva Ink
Purchase Tickets
July 20, 2011
Twilight
Bands: The Moderators / The Give
Purchase Tickets
July 25, 2011
The Goonies
Band: The Centennial
Purchase Tickets
August 1, 2011
Terminator 2: Judgment Day
Band: The Chain Gang of 1974 w/ American Tomahawk
Purchase Tickets
August 8, 2011
Jurassic Park
Band: Marc Broussard
Purchase Tickets
August 15, 2011
Stop Making Sense
Band: School of Rock All-Stars Talking Heads Tribute
Purchase Tickets
Music has always been a part of my life. It probably all started listening to old Grateful Dead, Peter Paul & Mary, and Simon & Garfunkel records that my parents had, but it wasn't long before they were taking me to concerts like Starship, Crosby, Stills & Nash, and Huey Lewis & The News. I got the bug to write about music after reviewing an Eric Clapton concert for a creative writing project in high school but didn't really take it up seriously until 2002. Since then I have published countless articles in The Marquee Magazine and done some work for Jambase.com, SPIN Magazine, and various other outlets. I started Listen Up Denver! as a way to share the music information that is constantly spilling out of my head with people who care. Please enjoy!