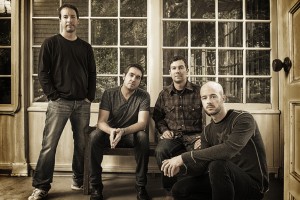 Photo by Jay Blakesberg
Why You Should Go: Yonder Mountain String Band has always played music by its own set of rules. Bending bluegrass, rock and countless other influences that the band cites, Yonder has pioneered a sound of their own. With their traditional lineup of instruments, the band may look like a traditional Bluegrass band at first glance but they've created their own music that transcends any genre. Dave Johnston points out "What could be more pure than making your own music." Yonder's sound cannot be classified purely as "Bluegrass" or "string music" but rather it's an original sound created from "looking at music from [their] own experiences and doing the best job possible." The band continues to play by their own rules on their latest record The Show.  The Show is the band's most varied and versatile album to date, and the summation of the journey that these guys are on together. It's Bluegrass for the masses, acoustic tunes filled with dazzling chops, and it's fun to boot.  Get out and see this show!
Venue:  Red Rocks Amphitheatre, 18300 West Alameda Parkway, Morrison, CO 80465 – (720) 865-2494
Doors: 5:00 pm. Music Starts at 6:00 pm.
*Price: $38.95-$44.95 Buy Tickets
*All prices are gathered from other sources and we are not responsible for mistakes or inconsistencies. They are intended only as guidelines. Please, always call the venue if you desire the most accurate information possible.