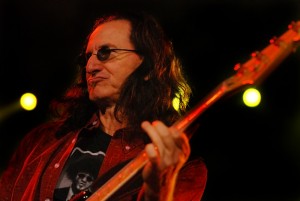 Photos by Todd Radunsky
The Scene: Denver's own Pepsi Center hosted newly inducted Rock and Roll Hall of famers Rush on their 2013 Clockwork Angels Tour on last week.  If the venue wasn't sold out, it sure looked like it was as every seat for as far as the eye could see was occupied.  Whether it was the seasoned, gray haired, Rush faithful, the under 10 crowd that came to the show with their parents, or everyone aged in-between, everyone was treated to a stellar performance by one of the greatest Rock Bands of all time.
Rush:   Bringing with them 5 Violinists, and 2 cellists, known as the "Clockwork Angels String Ensemble,"  10 large LCD video screens above the stage, one giant LCD screen behind the stage and at least one monstrous popcorn machine, Alex Lifeson, Geddy Lee and Neil Peart played two flawless sets at Pepsi on Friday. They played a great mix of both old and new material that had much of crowd playing air drums and air guitar for nearly every song.  There isn't another band on the planet where more people play air drums than at a Rush show.  Just getting a glimpse of Neil Peart, who is now regarded by many as the greatest living Rock drummer, was enough to drive some fans to absolute frenzy.
The first set was relatively quick and lasted about an hour. Rush played by themselves, without the ensemble.  One thing was obvious,  which was the fact that whether listening to a Rush album or watching them live, it's almost impossible to believe that  all the sound that's coming into your ears is being created by just 3 people.  It's mind boggling really.
The band managed to squeeze in 10 songs during that hour time period however and mixed it up by opening with "Subdivisions" from their 1982 album Signals.  From there they moved to the mid 80's Album Power Windows and played "The Big Money."  The  earliest they went back in time in the first set was when they played the song "Limelight" which is from their album 1981 classic, Moving Pictures.  Even those Rush fans that were looking forward to seeing more music from Rush's '74-'80 period seemed to be pleasantly surprised with how tight and polished the band was when playing much of their newer material.  Of course Neil Peart had to show off his skills with the sticks by treating the crowd to a nice little drum solo during the song "Where's My Thing" near the end of the set.  He truly didn't disappoint either.  Peart might be 60 years old but he is absolutely effortless and technically astounding even compared to the drummers 1/3rd his age.  His creative fills, raw power and boundless energy are unmatched. He's simply mesmerizing to watch.
After about a 30 minute break, the consummate pro's came back on stage to wow the crowd with a 2 hour second set that blew everyone completely away. This time accompanied by the "Clockwork Angels String Ensemble" who musically meshed beautifully with the trio.  Guitarist Alex Lifeson, who has always been underrated in my opinion, had one amazing solo after another within each song.  There's no reason in the world that Alex shouldn't be considered one of the most innovative and talented Progressive Rock guitarists that's ever lived.  His licks are legendary and his creativeness and tone are as unique as it gets.   Meanwhile, Geddy Lee's voice somehow actually seemed to get stronger as the show progressed.  Amazing.
The band spent their first 9 songs of the 2nd set playing nothing but tunes from their new album "Clockwork Angels."  Opening the set with  "Caravan" and continuing with the title track "Clockwork angels" and then "Anarchist" you could just tell how much the band is enjoying what they've written recently.  Geddy sang with power and enthusiasm, often smiling in-between lyrics like a kid in a candy store.   It wasn't until deep into the 2nd set when Rush brought all the longtime fans of the band back to the good ole days.  Out of the darkness, song number 23 on their set list, came the sound of Neil Peart's triangle representing the great beginning to the classic instrumental "YYZ!" The crowd responded with a loud roar as the band tore into the song with aggression and fervor.  As "YYZ" ended Rush quickly jumped into one of their bigger radio hits and more famous songs "The Spirit of Radio," which of course had fans young and old singing, drumming, and playing air guitar in unison with the Canadian rock Gods.  Closing the show with "Spirit" was perfect, as it left the fans wanting more and more.  Not to disappoint, Rush came back out for their encore and played their most famous song "Tom Sawyer" and then parts 1, 2, and 7 off of their classic album 2112 including part 1 "Overture," Part 2 "Temples of the Syrinx" and part  7 "Grand Finale" to close everything out.  It was magnificent if you're a true Rush fan.  Absolutely epic!
People left the arena buzzing and helplessly smiling.  Every 10 steps you took towards the exit doors you could hear people talking about how great the show was, or how awesome the band looked, or how cool the light show and pyrotechnics were.  They were right.  The band was never on auto pilot and everyone from the lighting director to whoever was running the soundboard did an exquisite job.  It was great to see how well oiled of a machine Rush and their crew  are and it showed in their work.
When you see 100+ concerts a year, sometimes, it can be a bit of a blur.  It's always fun and I never take it for granted, but every so often a band comes to town that makes me realize why I got into this business in the first place.  During this show Rush brought me back to my youth.  They brought me back to the beginnings of my love for all genres of music.  Rush did that for me and for that I love them as a band more than I did when I entered the arena.   Geddy, Alex and Neil have done what few bands can say they've done, going strong for about 45 years!  Rush has been doing this since 1968.  1968! And they're still blowing people away nightly at an arena near you.  How is that possible?  Who cares?!  Just keep it coming boys and thanks for the great memories!
Energy: A+
Musicianship: A+
Sound: A
Stage Presence: A+
Set/Light Show: A
Overall: A+
I work in the music industry photographing bands live and offstage for publicity. My work includes shooting concerts, festivals, and portraits of musicians and bands. I shoot for promoters, record companies, publicists, magazines, band managers, and individual musicians. I also photograph weddings, and portraits and have traveled the world to do so. I've shot weddings in Cali, Ireland, Mexico, Cape Cod, and Amsterdam to name a few.