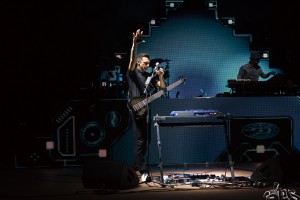 Photos by Michael Liggett
The Scene: For the 10th year in a row Sound Tribe Sector 9 invaded Red Rocks Amphitheater with two nights of mayhem and an amazing crew of special guests.  The tribe crowd is an interesting mix of high-school age wannabes and older fans that travel with the band during their nearly constant touring schedule. When we arrived in the South parking lot on Friday evening, the weather was sweltering hot, the crowd was young and colorful and there were a tremendous number of people on-hand to witness Rap heavyweight Nas perform his powerful set.
Speaking with several longtime STS9 fans they seemed disappointed with the last few Red Rocks runs dating back to 2007 and were excited to see what the band had to store for the 10 year anniversary show. During my adventures throughout the North and South lots before the show, words to describe the past few years were akin to "stale" and "caving to the growing electronic movement." Needless to say, STS9 delivered a historic set-list that the crowd jazzed from the start and reinvigorated my love for the band and the sound they pioneered more than a decade ago.
Nas: This was my third time seeing Nasir Jones deliver on stage and for the 3rd consecutive show he didn't disappoint with a mixture of classics and new material for the packed benches on the Rocks. Ever since his well-documented divorce from Hip-Hop princess Kelis Nas has been on fire, both on stage and in the studio where he seems more willing to spit fire rather than cave to the lackluster output from most of today's major Hip-Hop stars.  Just looking at this setlist should make most Rap fans drool. Highlights included a fiery "N.Y State of Mind" and a loud and boisterous "Got Ur Self a Gun." 24 songs later the crowd was pulsing with energy and STS9 was poised to bring these levels up even further.
Nas-9/6/13- Red Rocks Amphitheater, Morrison, CO
Set:  The Don,  Accident Murderers, Loco-Motive, N.Y. State of Mind,  It Ain't Hard to Tell, Represent,  The World Is Yours, Life's a Bitch,  The Message,  Street Dreams,  If I Ruled the World,  I Can,  Nastradamus,  Nas Is Like,  Hate Me Now,  Get Down,  Halftime,  Memory Lane ( Sittin' in da Park),  Hip Hop Is Dead, One Love,  Got Ur Self a Gun,  Made You Look,  One Mic, Stay
STS9: I've seen Sound Tribe perform many shows over the years and they have a fun organic vibe but something about their Post-Rock Dance sound always seems a bit underwhelming and leaves me wanting more. Tonight was different as the band seemed on point and willing to dip into their classic catalog for tracks that have inspired so many legions of fans since the late 1990's.
Tribe fans are an interesting bunch.  Some of them dance wildly like it's their last night on earth while others stand quietly and stare at the stage with very little emotion. The first set inspired the dancing bunch with a three-song run through "Aimlessly," "Ramone & Emiglio" and " Baraka." This trio of songs displayed the wild early dawn of STS9 with incredible drum mastery from Zach Velmer. During the pitch perfect "R & E" I was reminded of the small club shows that STS9 used to play in the early days and how inspiring these shows were to the musical landscape at the time. I couldn't keep the cheesy grin off my face as the boys flew through "When the Dust Settles" to close out the first set.
After an awesome and groovy in-the-round-set from Welder (masked alter ego of electronic wizard Eskmo) to occupy the set break, STS9 returned and turned the crowd upside down with " Golden Gate" "Glogi" and "Grow." This time no souls in the crowd were spared and the benches were turned into a giant galactic dance party. Finally, as the clock churned towards 1 AM, the band exited the stage but they weren't done. Apparently they had fire in their veins as they returned for a three-song encore highlighted by an absolutely crushing version of "Moon sockets" that spun on for more than 20 minutes as faces slowly melted all around me.
I've never seen a STS9 show quite this good and it certainly set a tone for the rest of the weekend.  Bravo to Sound Tribe Sector 9, Nas, Welder and Araabmuzik for providing one of the best night of the Red Rocks season in the waning weeks of the concert calendar.
Sound Tribe Sector 9: 9/6/2013 Red Rocks Amphitheater
Set I: Simulator, Aimlessly, Ramone & Emiglio, Baraka, Rabble, Kabuki, Crystal Instrument > Frequencies Peace 2 > 3, When The Dust Settles
Set II: Golden Gate > Glogli > Grow, Equinox, Bigs > 1,2,3… Squares and cubes, Scheme, Kamuy
Encore: Between 6th and 7th > Circus > Moonsocket
Energy: A-
Musicianship: A-
Sound : B+
Stage Presence: A
Set/Light Show: A + 
Overall: A-
I've worked various positions in the music industry with Madison House, Rock The Earth and Bohemian Nights. My dream is to travel the world and seek out all the good tunes, beer and food that make life so special. I have a healthy obsession with live music and I'm thrilled to share the epic moments with you.