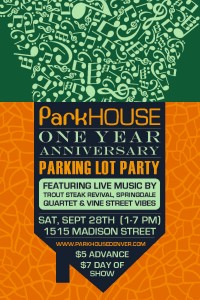 It's hard to believe that it has only been a year since Park House opened it's doors considering how much great music, food, and drink has come out of the "classy yet quirky" joint at Colfax and Madison.  They say time flies when you're having fun, and whether that means playing Bags on the "front porch" or a game of Mario Kart in the back, enjoying a WhiskeyGrass Wednesday or a Soulfax Session, a lot of good times have been had by all at Park House over the past year.  To celebrate their first anniversary, Park House, along with Listen Up Denver! and Breckenridge Brewery, is throwing one hell of a party that will begin on Friday night with The Recovery Act and spill out into the parking lot on Saturday afternoon with Trout Steak Revival, Springdale Quartet, and Vine Street Vibes before ending with another rowdy night inside that will feature the CD release party for Casey James Prestwood and the Burning Angels new album Honky Tonk Bastard World.  If that's not enough Breckenridge Brewery will be taking over the taps with their classic drafts and special releases during a weekend-long tap takeover.  If you're still not convinced about the caliber of this party, read a bit more about the weekend's entertainment.
Like Park House, The Recovery Act hasn't been around long but has already made a huge impact on the Denver music scene.  Although the band specializes in Funk and Soul, their in the pocket lineup can play just about anything.  Fronted by the sultry and soulful Lindsay French, The Recovery Act brings a killer rhythm section in Adam Segalis on drums, Jeff "Birddog" Lane on percussion, rounded out with bass man Tyler Olmsted.  Providing the bells and whistles are Adam Williamson on keys and Christina Mockett on guitar.  The Recovery Act will get the Park House rocking Friday night at 9:00 with their self styled Super-Funk.  So come out, strap in, and get ready for a hell of a weekend.
The Saturday Parking Lot Party will feature three of the youngest and most talented bands in Colorado.  Treat Steak Revival are no strangers to Park House, with the band and its members leading many of the WhiskeyGrass Wednesdays over the past year.  The band consists of versatile and diverse talents, playing folky yet foot stomping Bluegrass.  Although Springdale Quartet may sound like a Bluegrass act, they're anything but.  Diversity is a good thing and Springdale knows it.  Playing every thing from Funk to Progressive Rock, Springdale knows how to get the people dancing.  Vine Street Vibes has evolved from a couple of guys with some laptops and a saxophone to a full-blown psychedelic, funky, electronic experience.  The sextet is now cutting their teeth in the clubs of Denver and will provide some nice electro-funk to round out the diversity of acts at the Saturday Parking Lot Party.  Tickets for the Parking Lot Party are $5.00 advance and $7.00 at the door.  Tickets can be purchased at Park House and online here.
PARKING LOT PARTY SCHEDULE
Doors Open – 1:00
Vine Street Vibes -1:30-2:45
Springdale Quartet – 3:15-4:30
Trout Steak Revival – 5:00-6:30pm
But the party is not over yet.  As the Parking Lot Party winds down around 7:00, everybody will head inside for some more food, drinks and some great Honky Tonk from Casey James Prestwood and the Burning Angels.  The band will be celebrating the release of their album Honky Tonk Bastard World, a great way to end a great event.  So come on down to Colfax and Madison to help Park House celebrate one trip around the sun!