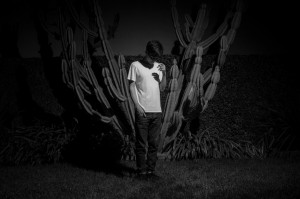 The Scene: In a city with a raging dance music scene like Denver's there are a lot of promoters and venues working to get their hand in on some of the action.  One of the venues working to stake some claim is Casselman's.  The first few times I attended a show there I was underwhelmed by the small crowd sizes but I've always been pleasantly surprised by the sound system and the energy in the room.  The audience was bigger than I'd seen before and it goes to show that Casselman's plan to lure the mid-priced concert goer from Cervantes' and The Ogden is working, albeit slowly.  Given the tone and mellow mood of the tunes to come, I perched in a lounge chair fit for table service and sat back to relax and bask in the sound.
Thriftworks: This is the fourth time I've seen Thriftworks live since I discovered his music through friends in 2011.  He seems perpetually stuck in the second opener slot, which is a shame since I believe he has got the production and performance talent better suited for small venue headlining events.  His plodding rhythms and soundscapes are cavernous in both shape and color and were a nice lead in for the rest of the evening.  Thriftworks deals mostly in low tempo melodic Hip-Hop and superbly utilizes the space that exists within his tortoise paced tunes.  I'm always impressed by his sound design as he works up spiraling synths that stretch from floor to ceiling and back again.  I was excited to see his visit to Red Rocks earlier this summer and a touring slot alongside Bassnectar has lead to more relevance.  With that said, I will still continue to spread the word by suggesting friends and audiophiles listen to memorable tracks of his like "Greenie Beanies" and "In/Out Tongue."
Lapalux: Given his association with Flying Lotus' label Brainfeeder, I was excited to get to put a face to the name I have heard much about and see what the UK based producer would bring to the table.  What transpired was more than I expected both visually and musically.  He utilized a Trigger Finger MIDI controller to warp his beats in a way I'm not all that accustomed to.  Rather than simply using it to launch clips of sound and add layers to his tracks he used the knobs to add various amounts of grain to sometimes glossy songs.  Moving quickly from one genre to the next, Lapalux showcased a production style fitting of the Brainfeeder label and made me want to get home and grab as many of his albums as possible.  One thing I've felt Casselman's has lacked in the past is visual display.  Lapalux outdid even the main act with his ethereal and dreamy symmetrical scenes.
Nosaj Thing: L.A. based producer Jason Chung, better known by his backward first-name moniker, was the final act to take the stage for the night.  Nosaj Thing has gained popularity in the Hip-Hop scene in recent years both as a producer of his own creations and also for collaborations with rappers Kid Cudi, Chance the Rapper and Kendrick Lamar.  The aspect of his performance I'm always most impressed with is his ability to use his MPD32 MIDI controller like a virtuoso, displaying the talent of a guitarist you would shell out serious cash to see.  To the uninitiated, and from the vantage point of the floor at Casselman's, it's difficult to dissect all that he's doing on stage.  Watching a YouTube video of a performance like the one from KEXP in Seattle (found here) gives you a better idea of all he accomplishes with his musical remote control.
Nosaj is currently touring in support of his release from early 2013 Home.  The structure of his sound is built in dreamscapes and breathy pads meshed with complex and swinging rhythms and drum fills. "Eclipse/Blue," "Try" and "Safe" all represented the new album well in the live format, but the stock visuals running behind him left something to be desired.  I'm of the belief that you either try to dazzle and amaze with the lights, or you turn them off and let the sound speak for itself.  With inspiring creations like his, Nosaj would probably be better served to kill the lights, set the ambience and provoke sonic imagery all it's own.  Either that or put a live feed of the work being done on the controller up on a screen so people can behold the mastery of his live digital instrumentation.  While I appreciate the work Nosaj has created, I think the mellow moods created by his music make it a better fit for a great pair of headphones than a dance floor.
Energy: B-
Musicianship: A-
Sound: B
Stage Presence: B-
Set/Light Show: B-
Overall: B