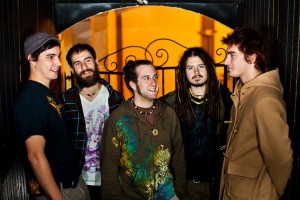 Why You Should Go: The information age has a sound. Revolutionary technology meets a revolutionary message in Papadosio. Melding Progressive Rock with Psychedelia, Folk with Electronica, and Dance music with Jam, the quintet has amassed a dedicated following of thousands of likeminded individuals sowing the seeds of unity and spreading the sounds of exaltation. Singer-songwriter Anthony Thogmartin's visionary lyrics, eclectic production, and signature guitar work are anchored by the rock solid battery of drummer Mike Healy and bassist Rob McConnell. The quintet is rounded out by brothers Billy and Sam Brouse, whose virtuosic two-headed keyboard, synth, and programming attack give the band its unmistakable complexity and intensity.  This Friday night at The Ogden Theatre Papadosio will be joined by local favorites Yamn.  Papadosio is blowing up and every time these guys come to Denver they play a bigger venue so don't miss your chance to see them in an intimate setting like The Ogden!
Venue:  The Ogden Theatre, 935 E. Colfax Ave Denver, CO 80218 – 303-832-1874
Doors: 8:00 pm. Showtime at 9:00 pm.
*Price: $10.00 Adv. $25.00 DoS
Buy Tickets
*All prices are gathered from other sources and we are not responsible for mistakes or inconsistencies. They are intended only as guidelines. Please, always call the venue if you desire the most accurate information possible.