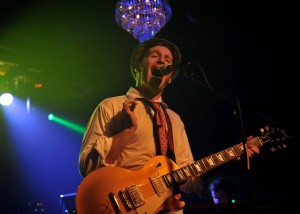 Photo by Kit Chalberg
Why You Should Go: Two of Denver's most talked about Rock-n-Roll bands, Fox Street and The Congress, are teaming up this Friday for an evening of dance, food and drink for a good cause. From Soul and Funk to gritty Southern Rock, the second-annual Nate's Night will be bigger and better than ever. One hundred percent of proceeds will benefit the Nathan Yip Foundation and Youth on Record (formerly Flobots.org).
The Friends of Nate group was formed in 2012 by a group of Nathan Yip's friends and peers. Nathan died tragically in an automobile accident at 19 years old and a year later his parents, Linda and Jimmy Yip founded the foundation in their son's name. Keith Bell and Alan Frosh were instrumental is starting the group.
"We felt it was important to get involved in this foundation named for our good friend Nathan Yip," said Keith Bell. "It's been ten years since Nate died, and his spirit and soul have remained with all of us and we want to help make a difference in our community in Nathan's honor."
Nate's Night honors Nathan's love for music and dream of improving education around the world, while supporting education needs in our community. Money raised from Nate's Night will be used exclusively for work to support vulnerable youth and educational projects in Colorado.
This event is a joint production between the Friends of Nate Board, Youth on Record and J2G Productions with all proceeds benefitting the Nathan Yip Foundation and Youth on Record.
Venue: Stoney's Bar & Grill, 1111 Lincoln Ave, Denver, CO 80203 – 303/830-6839
Show: 9:00 PM
*Price: $25.00 VIP, $10 GA AVD, $15 GA DoS
PURCHASE TICKETS
*All times and prices are gathered from other sources and we are not responsible for mistakes or inconsistencies. They are intended only as guidelines. Please, always call the venue if you desire the most accurate information possible.