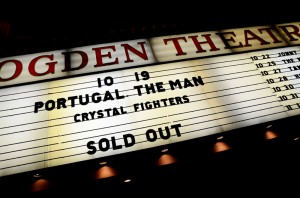 Photos by Todd Radunsky
The Scene: A rumbling chatter filled The Ogden Theatre last Saturday night for a sold-out show of epic mysticism and psychedelic fervor. Portugal. The Man with opener, Crystal Fighters, packed the venue to capacity (roughly 1,500 people) and it was very apparent. People of all ages, shapes, and sizes moved slowly towards the stage; many remained glued to the walls and railings, while I inadvertently grabbed a hold of my unsuspecting new best friend (sorry, stranger in the red beanie). The Ogden can definitely give you that sardine feeling, but for a performance like this, you adapt.
Opener: Crystal Fighters. There's a certain appeal to naivety when attending a concert. Yes, it's nice to know all the words and obnoxiously belt them out so the people around you can hear only your unflattering intonation. But lately I have found that going in unaware and unbiased leads to newfound respect and organic love for a group. I've heard London-based Crystal Fighters a few times before, each of their songs resembling acts from a play. Somehow they instill a certain calmness, while stirring up apprehensive feelings of love, life, and growing up. And their performance portrays these emotions in a very theatrical and artistic way. Their sound is fantastically Indie with influences of Alternative-Dance and Brit-Pop. Overall, it was a nice surprise and I highly recommend seeing Crystal Fighters.
Portugal. The Man: Following set break, the lights in the Ogden lowered and the soothing sound of The Righteous Brothers' "Unchained Melody" bellowed throughout venue. The song softened and Portugal. The Man took the stage, going right into their new single, "Purple Yellow Red and Blue." The ambiance mimicked the lyrics: bright flashes of vibrant color engulfed a sea of mellow blues and greens. I assimilate frontman, John Gourley, with those bright flashes, his falsetto penetrating the crowd and body language interjecting in an unapologetic manner.
The set continued effortlessly with older songs, "So American," and "Modern Jesus." However, fruitful covers like "Kilo" by Ghostface Killah and "I'd Rather Go Blind" by the lovely Etta James enraptured the audience. One of my personal favorites of the night was the hilariously surprising "Dayman" from It's Always Sunny in Philadelphia. As the show continued, the mind-altering backdrop captivated most people's attention, but it was the nonstop jams that grabbed mine. After an unspoiled 11-song streak, the band seemed wary, but humbled.
The Man returned to their new album with "Sea of Air" and "Hip Hop Kids" bringing it right back to "Purple Yellow Red and Blue," and the crowd went wild. The moment this ended and the band turned their backs, the audience erupted and the band promptly returned. "The Devil" brought us back to their early years, which led into a tribute to The Beatles: "Helter Skelter" >"Sleep Forever" >"Hey Jude."
The Portland-based band is on tour promoting their seventh full-length studio album, Evil Friends, produced by none other than world-renowned Danger Mouse. Even with seven albums out, Portugal. The Man shows no signs of slowing.
Energy: A
Musicianship: A
Sound: A
Stage Presence: A
Set/Light Show: A
Overall: A
Lindsay was born in Georgia, raised in Florida, and moved to Colorado when she turned 18. All Lindsay asks for in life is music, hoppy beer, and the written word. The necessities of family, friends, water, and food naturally follow.